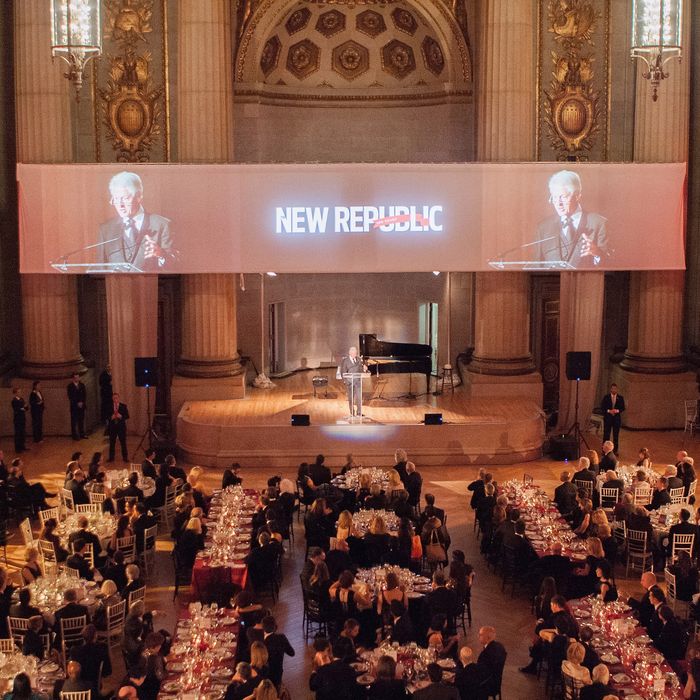 Photo: Teresa Kroeger/Getty Images
Not long after he purchased The New Republic, Chris Hughes had lunch with me, as he was doing with quite a few journalists around Washington. At one point, he asked me who the best editor had been during my 16 years. I had worked for a half dozen editors, several of them great, but it was an easy question. I replied "Frank Foer" so quickly that Hughes appeared startled.
I don't think my answer convinced Hughes to hire Foer as TNR's editor, because I'm sure anybody else who worked with him said the same, and anyway, Frank Foer was born to edit the magazine. He has a deep, wide-ranging curiosity that spans the gamut from historical and philosophical to vulgar politics and popular culture. He has an almost freakish ability to understand how other people's minds work, a talent I have seen him use on me and many others, to find the subject matter that perfectly suits them. His essay for the magazine's anniversary issue described how it was founded in Theodore Roosevelt's living room, and became, and remained, an essential foundation of American progressive thought. Today, he resigned.

Frank Foer isn't leaving TNR because he wasn't a good enough editor. He's leaving because Chris Hughes is not a good enough owner.
Frank is also not the only person leaving TNR. Leon Wieseltier, the magazine's literary editor for more than three decades, departs as well, and I expect many others will follow them (as I would, if I still worked there).
Journalists who write about a subject close to them usually include a parenthetical sentence beginning "full disclosure." I don't believe full disclosure is actually possible for me in this case. I developed an obsession with TNR in college, was rejected twice before getting an internship there, have read it loyally for twenty five years, retain strong friendships with many of its staff and editors, and advised several of them as they tried to avert the crisis that is currently unfolding. Full disclosure would require a set of parentheses encapsulating every word of this item.
I expect the circumstances surrounding TNR's transformation will be framed as a matter of modernity versus tradition. There is certainly an element of this. At the magazine's 100th anniversary gala two weeks ago, where Hughes, Foer, Wieseltier, and Hughes's new CEO, Guy Vidra, all spoke, the speeches took a sharply, awkwardly divergent tone. Foer and Weiseltier gave soaring paeans to the magazine's immense role in shaping American liberal thought. Hughes and Vidra used words like brand and boasted about page views, giving no sense of appreciation at all for the magazine's place in American life. In a comic moment, Vidra mispronounced Foer's name. I happened to run into Wieseltier a few days after the gala, and when he asked me what I thought, I told him he and Foer won the debate.
But the conflict between Hughes and most of the staff of The New Republic is not about technology. Foer and the staff, with the exception of Wieseltier, are comfortable with modernity. They are joyous bloggers, and willingly submitted to the introduction of cringe-worthy Upworthy headlines to their stories and other compromises one must make with commercial needs.
The problem, rather, is that Hughes and Vidra are afflicted with the belief that they can copy the formula that transformed the Huffington Post and BuzzFeed into economic successes, which is probably wrong, and that this formula can be applied to The New Republic, which is certainly wrong.
Several weeks ago, Vidra communicated the new vision to the staff in what I am told was an uncomfortable stream of business clichés ungrounded in any apparent strategy other than saying things like "let's break shit" and "we're a tech company now." His memo to the staff predictably uses terms like "straddle generation" and "brand." It promises to make TNR "a vertically integrated digital media company," possibly unaware that "vertically integrated" is an actual business concept, not a term for a media company that integrates verticals.
Hughes and Vidra have provided no reason at all for anybody to believe they have a plausible plan to modernize The New Republic. If they did, Frank Foer would still be editor. My only hope now is that one day this vital American institution can be rebuilt.