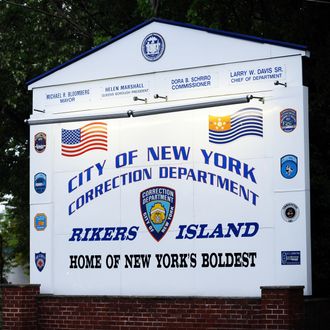 Photo: Jewel Samad/AFP/Getty Images
The federal government plans to file a lawsuit against New York City alleging "widespread civil rights violations" against teen inmates at Rikers Island. The suit comes on the heels of a blistering report conducted by U.S. district attorney Preet Bharara that was released this summer and detailed shocking abuses of adolescent Rikers prisoners, including beatings, verbal abuse, and excessive use of solitary confinement.
The report, released in August 2014, laid out the brutal nature of officers' abuse against teen inmates. Officers reportedly frequently ganged up on inmates, using weapons such as "radios, batons, and broomsticks" to beat them. Officers also refused medical care for the inmates they seriously injured until they promised they would lie to the nurses about how they sustained their injuries. Despite the heinous and over-the-top punishments, prisoners are often afraid to report the abuses for fear of being labeled a snitch.
The federal lawsuit could force Rikers to institute court-ordered changes to its practices.