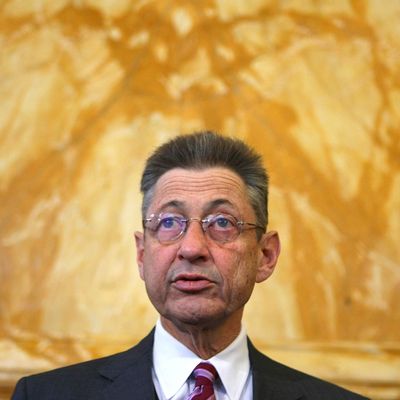 Photo: Daniel Barry/2008 Getty Images
State Assembly Speaker Sheldon Silver is facing a federal investigation into outside payments he received over the course of a decade. In the speaker's latest scandal, the government is questioning this money, received from a local law firm, because Silver did not report it on his disclosure forms.
The firm in question, Goldberg & Iryami, P.C., "seeks real estate tax reductions for commercial and residential properties in New York City," according to the New York Times. These are, potentially, issues that Silver, as a state assembly member, could have an impact on, so the investigation seeks to determine what exactly payments from this firm were for. But the connections run deep:
[Goldberg & Iryami] is run by Jay Arthur Goldberg, 75, who served on New York City's Tax Commission from 1978 to 1986 during the administration of Mayor Edward I. Koch. Mr. Goldberg has also been an occasional supporter of Mr. Silver's campaigns. Since 2001, he and his law practice have made six donations to Mr. Silver, totaling $7,600, according to campaign finance records. The most recent contribution was in February, when Goldberg & Iryami gave him $1,800. […]

The sizable number of properties on the Lower East Side for which Mr. Goldberg has sought real estate tax reductions include Mr. Silver's own co-op, the Hillman Housing Corporation, a large development of brick apartment buildings on Grand Street, tax records show, as well as the commercial building across the street that is listed in state records as the address for Mr. Silver's campaign committee, Friends of Silver.
Like many local politicians, Silver earns supplemental income from jobs other than his elected state government post (which earns him $121,000 annually). According to the Times, he reported earning $650,000 from legal work in 2013 — though it's not clear what, exactly, he had to do to get that. Silver isn't required to disclose that information, to the chagrin of good government groups.