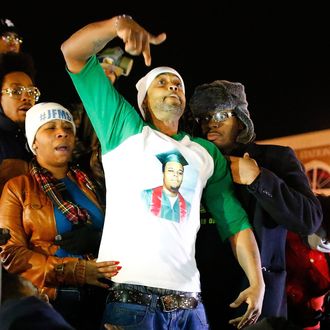 Photo: Larry W. Smith/EPA
Immediately after learning that Ferguson police officer Darren Wilson would not face criminal charges for shooting Michael Brown, video cameras captured the dead 18-year-old's stepfather, Louis Head, shouting, "Burn this bitch down," among other things. Now the police are looking into whether Head's statements could legally qualify as inciting a riot.
Initially, Ferguson police chief Thomas Jackson told CNN, "We are pursuing those comments, and there's a lot of discussion going on about that right now, but I really can't get into that at this time." However, St. Louis County Police Department sergeant Brian Schellman soon "clarified" Jackson's statement": [The Ferguson Police Department] will not be conducting any investigations with respect to protest activities which followed the announcement of the Grand Jury's decision," he said. Instead, the county will handle it. Schellman also explained that the investigation of Head is part of a "larger inquiry" into the fires, looting, and police confrontations that followed the announcement of Wilson's non-indictment.
On Wednesday, Head released a statement saying that, "My emotions admittedly got the best of me." "This is my family. I was so angry and full of raw emotions, as so many others were, and granted I screamed out words I shouldn't have screamed in the heat of the moment. I was wrong and I humbly apologize to all those who read my anger and my pain as a true desire for what I want for the community," he said. However, Head continued: 
To place blame solely on me for the conditions of our community and country after the Grand Jury decision goes way too far and is wrong as the decision itself. To declare a state of emergency and send a message of war, not peace, before a Grand Jury decision is announced is also wrong.

In the end I've lived in this community for a long time. The last thing I truly wanted was to see it go up in flames. In spite of my frustration, it really hurt me to see that. It's time to rebuild. If we are to honor Michael Brown's memory we need to work together to make rebuilding happen. I plan to remain here and do my part in earnest truth.
It's worth noting that Head did not join in any of the illegal behavior that followed the grand jury announcement, and it seems extremely likely that the people who did commit crimes would have done so regardless of what he said or did.