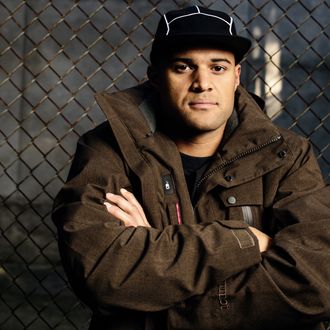 Many are quick to lament the death of New York City's hip-hop scene, but perhaps they're just not looking around closely enough. Listen, and you'll heart countless emerging artists, building on and morphing out from the seminal work of those before them. By channeling the spirit of innovators such as Nas, Hennessy is committed to celebrating artists old and new, who dream big and shake things up. With that in mind: a list of some of the most exciting hip-hop talents today that are, once again, lending excitement to New York City's rap scene.
Homeboy Sandman
The Queens-raised alt-rapper (pictured above) is an academic overachiever who has, not surprisingly, earned a solid name for his verbal dexterity. A handful of superlative albums later—all on the respected, genre-busting Stone's Throw label (Madlib, J Rocc)—he's already starting to show signs of icon-ness after dropping White Sands, one of the year's smartest hip-hop releases.
Joey Bada$$
This Brooklyn teen is known for his weighty lyrics offset by an energetic flow. But he also bears the distinction of being the face of Pro Era, a collective of rappers, producers, and artists that's been earning Joey & Co. cultural comparisons to OddFuture. These bona-fide multi-taskers are also, live, righteous freestylers.
Lakutis
This former associate of Das Racist has earned a party-guy rep and specializes in aggressive, beat-heavy verses (a possible nod to his past as a hardcore fan) backed by rousing production. Here's hoping his debut, 3 Seashells, is a indicator of things to come.
Ratking
A trio of rabble-rousers from Harlem, Ratking has built a rep for their wild live shows. Their cool factor took off after the influential XL Recordings (Tyler the Creator, The XX) threw its weight behind the group and its outré sound that whirls together grime, dub, and beyond. In message, they're alternately playful and gritty—imbuing the scene around them with urgency.
Your Old Droog
Our introduction to Droog was a mysterious one: The Coney Island native seemed to  anonymously post a self-titled EP on the Internet, causing mass speculation wrapped in the ultimate compliment: that this may secretly be the work of Nas. Droog's work was relevant, nuanced, yet steeped in nostalgia. The surprise may be over, but the expanse of his talent remains unseen.