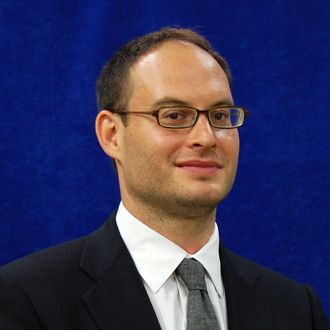 Photo: New America Foundation
Franklin Foer is out as editor of The New Republic, according to several sources. He will be replaced by Gabriel Snyder, formerly of The Atlantic Wire and now with Bloomberg Media. Foer reportedly resigned this afternoon, as did Leon Wieseltier, the magazine's longtime literary editor. The magazine will move to New York, and the print edition will reduce from 20 issues to 10 annually. This likely means the end of The New Republic as we've known it for the last 100 years.
Foer served as TNR's editor from 2006 until his resignation in 2010, after a number of layoffs at the magazine, but returned to the position in 2012 after Facebook millionaire Chris Hughes purchased the publication. Hughes bought the magazine with promises to invest seriously in longform journalism and, after a major redesign, said he wanted to make it profitable.
Two years later, with the magazine struggling to gain footing online, tension began to build between Foer and Hughes. In September, Hughes hired former Yahoo General Manager Guy Vidra, and in an interview with The New York Times, said: "Today, I don't call it a magazine at all. I think we're a digital media company." That set off alarm bells with members of the staff, as did meetings at which Vidra discussed his and Hughes's vision for the future of the magazine that didn't include mentions of Foer. At TNR's celebrity-packed 100th anniversary gala last month, Vidra mispronounced Foer's name in his introduction. Rumors of Foer's imminent departure have been buzzing around Washington for more than a month. 
Foer, Hughes and Snyder did not respond to requests for comment. In a memo, Vidra announced that the company was "re-imagining The New Republic as a vertically integrated digital media company."
Here's the memo sent out by Vidra to the staff: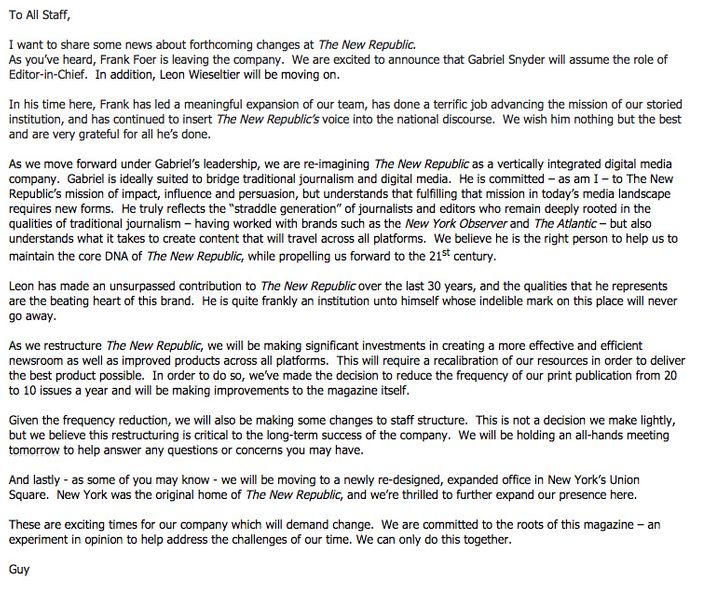 (Full disclosure: I'm a former TNR writer, and know Foer as well as many of the staff there.)