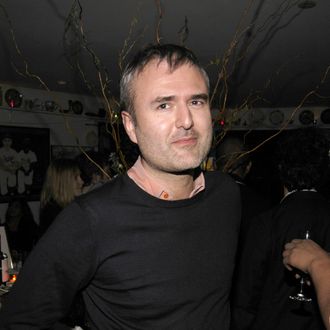 After a decade in charge of Gawker Media, founder Nick Denton is stepping down as president of the blog stable, which includes Gawker, Gizmodo, Deadspin, Jezebel, io9, Jalopnik, Kotaku, and Lifehacker. In a lengthy memo released on Wednesday, Denton announced that he has created a seven-person managing board to run the company by consensus or, failing that, by majority vote.
Here's the team, via Capital New York:
Denton himself, who will remain as C.E.O.; president Heather Dietrick; chief strategy officer Erin Pettigrew; advertising head Andrew Gorenstein; chief operating officer Scott Kidder; and executive editor Tommy Craggs, previously the editor of Gawker Media's sports site Deadspin. Also among them is chief technology officer Tom Plunkett, who will continue to work on the product side but shed the title of C.T.O.
Craggs's new executive role will replace that of editorial director Joel Johnson, who, according to a Tuesday Politico report, might be leaving Gawker Media for Vice. (In the memo, a characteristically unsentimental Denton called Johnson's hiring "a mistake.")
"I need to share power more broadly," Denton continued, adding that he plans to spend some of his newly free time doing "the activity that brings the best out of me: blogging." "It's a little daunting. The last time I was writing regularly was 2008, when I ran Gawker, and I'm out of practice. I'm sure any blogger knows the feeling," he wrote. But, "I can exercise most influence now through writing on my blog, and in the comments on others." Have fun, everyone.