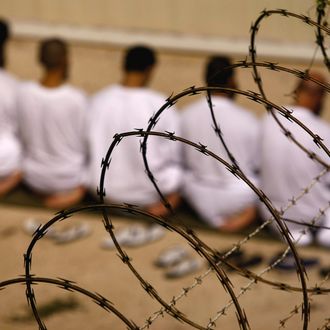 Photo: John Moore/Getty Images
While the controversy over President Obama's immigration action and normalizing U.S. relations with Cuba will certainly carry into the new year, the president is already working on another bold move sure to infuriate members of Congress. Senior administration officials tell The Wall Street Journal that Obama plans to make an aggressive push to close Guantánamo Bay, which still holds 132 detainees. This month, six detainees were transferred to Uruguay and four were sent back to Afghanistan. The White House intends to return more prisoners to foreign countries in early 2015 or even before the end of the year, focusing first on the 64 detainees that have been cleared for release.
Obama is also shifting his strategy by portraying the closure of the facility in Cuba as a fiscal issue. Officials have said that some detainees would have to be transferred to the U.S. before Guantánamo can be closed, and the administration hopes that reducing the prison's population to just a few detainees will bolster its argument that keeping the facility open isn't cost-effective.
Obama told CNN on Sunday that in addition to being "contrary to our values," Guantánamo is "wildly expensive." "I'm going to be doing everything I can to close it," he said. "It does not make sense for us to spend millions of dollars per individual when we have a way of solving this problem that's more consistent with our values."