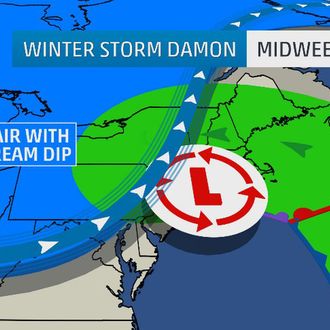 Photo: The Weather Channel
Tuesday's winter storm, which manifested as a torrential downpour in New York, resulted in 800 flight cancellations and stranded more than 2,000 others. But it isn't over yet: The effects are just projected to get worse throughout the week.
Winter storm Damon, as it has been dubbed by the professionals at the Weather Channel, also closed hundreds of schools in New Hampshire and caused major traffic delays.
And, in New York City, Damon even set some local records:
Forecasters aren't projecting much sunshine for the remainder of this work week, and Thursday may even bring some snow to New York City. Mountainous regions of New England, on the other hand, may be getting up to a foot of fluffy precipitation, while coastal regions are being told to watch out for potential flooding. Enjoy!