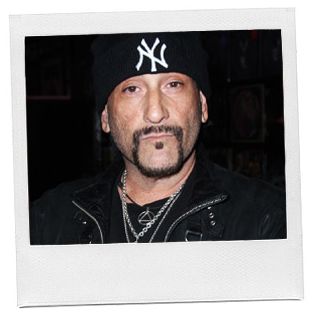 Name: Richard "Handsome Dick" Manitoba
Age: 60
Neighborhood: East Village
Occupation: Punk front man, the Dictators NYC; Radio DJ, "Little Steven's Underground Garage" onSirius XM; Owner, Manitoba's bar. You can catch him on Thursday, December 18 at the 92Y for "From Genesis to Kings: Jewish Punk and Its Aftermath."
Who's your favorite New Yorker, living or dead, real or fictional?
I can probably give you a different answer every day, but I like to go with my first impulse, which is Jack Kirby from Marvel Comics. When I was a kid, I was a Marvel fanatic, and I used to love two artists: Jack Kirby and Steve Ditko. Ditko I liked a drop more artistically, but I went with Kirby because he's from the Lower East Side and he was Jewish. And I'm Jewish. And I connect with New York Jews.
What's the best meal you've eaten in New York?
Man! So many: Stanton Social, Becco, Blue Ribbon Brasserie, La Foccaceria (an East Village staple now closed), and Mario's, Little Italy in the Bronx.
In one sentence, what do you actually do all day in your job?
Entertain the national and international masses, via live performances, and on the radio.
What was your first job in New York?
Somebody offered me a job handing out abortion pamphlets on 72nd and Broadway for a clinic around the corner, soon after Roe v. Wade was passed. I hate to sound like an old man, but it was good money! It was like $4 or $5 an hour. I remember one woman walking by — it's hard to remember, it was so long ago — but she walked by and said, "Give that to your sister!" She was pissed off! She should have been happy that people weren't going into the dungeons to get abortions.
What's the last thing you saw on Broadway?
Matilda, with my son Jake, and Drew Carey. (He does a monthly program in the Underground Garage.)
Do you give money to panhandlers?
Only if they look real destitute.
What's your drink?
Diet Coke with lime, or seltzer. I've been sober since 1983. I opened Manitoba's 15 years ago; If I'd opened the bar in 1981, it would have closed the day after.
How often do you prepare your own meals?
Much of the time. I love to cook, and I'm damn good at it.  I find it relaxing and it's a gift to give to people — like when I perform and people have a good time. It's the same kind of thing.
What's your favorite medication?
Food.
What is the best thing in or about your apartment?
Giant couch with 53-inch television in the living room, and 42-inch television in the bedroom. It's a great two-bedroom apartment with a terrace that I waited nine years for. Mitchell Lama. Hit the apartment lotto!
What's the craziest thing you've ever seen on the subway?
The time I peed on a platform as a drunk teenager, got caught, and received a fine.
When was the last time you stayed out past 3 a.m.?
A month ago. That's rare. We have a kid, and babysitters are expensive. I always say it's $80 before we hit the street.
Which do you prefer, the old Times Square or the new Times Square?
Old! It was bad and thrilling and exciting and dark, but it was like wow, look at all the characters. And I was a teenage kid looking at naked movie after naked movie. And you know what's happened to New York now? It's turned into America. Mom and Pop can't afford the rent anymore; the only ones who can are national places. I have a goddamn Blimpie's down the block. I told my son, you are not allowed to eat at Blimpie's, unless you're 100 miles outside of New York. Because there's Russo's on 11th street, where I've been going to for 30 years. They make fresh mozzarella in the basement! Go get an Italian hero over there. Don't go to Blimpie's.
What do you think of Mayor de Blasio?
De Blasio at times I like, at times rubs me the wrong way. I hate the way cops' hands are tied in the city these days. That's part of his trip, I believe. I loved Koch. Introduced my son to him as, "The Mayor, the last time New York was fun!"
What do you hate most about living in New York?
So little space, and the way people bang into you because of the lack of space. Walking four wide across the sidewalk, I got no room! Okay, I'll go into the gutter.
If you could banish one person from New York forever, who would it be?
David Johansen.
When's the last time you drove a car?
On vacation in Puerto Rico with my wife and son this past August.
Finish this sentence: The NYPD _____.
Has always been fair to me. All the cops I know are friendly, honest, and straight-up. Funny, too! Family guys and gals, which I think people sometimes forget. My personal experiences, especially with the 9th Precinct, my neighborhood precinct, are great.
Times, Post, or Daily News?
Hate to ride the fence, but like a variety of people you can learn from, I get something from all of those papers.
Where do you go to be alone?
It's built into my band touring. Always a couple of hours in each city to be alone in my hotel, and walk the streets seeing how the locals live.
What makes someone a New Yorker?
Having spent my entire life here, I notice that many people moving here think they have to "act like New Yorkers": Tough, aggressive, nasty at times. That's a friggin' caricature of a New Yorker. New Yorkers I know, are friendly, outgoing, and only guarded when they have to be. They must have played stickball, punchball, off the stoop, had an egg cream with two stick pretzels, and owned Spaldeens and Pennsy Pinkys.