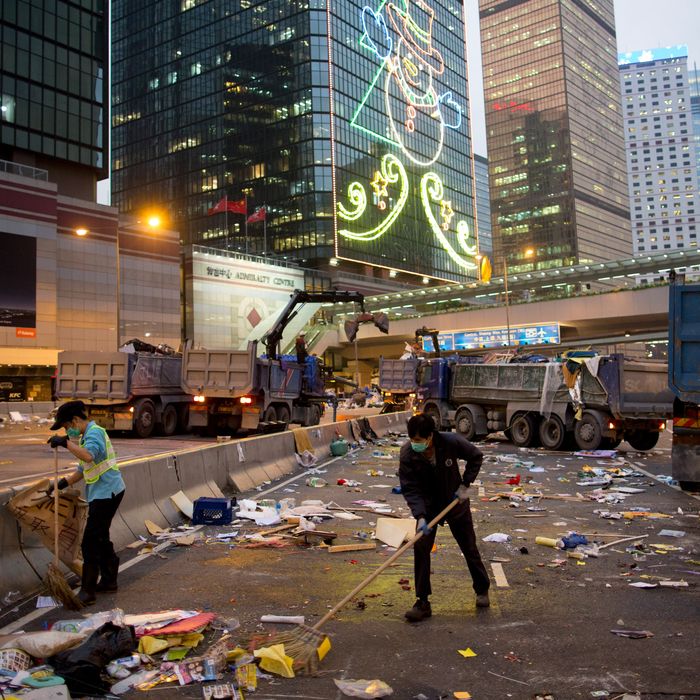 Photo: Brent Lewin/Getty Images
Police demolished the remnants of camps set up by pro-democracy protestors Thursday, putting an end to the 75-day-old pro-democracy movement. Some activists from a final sit-in related to the movement were also arrested.
Though numbers had fallen as anti-protestor sentiment rose in recent weeks, a holdout group of activists — including students affiliated with the Scholarism movement — persisted. They waged a short-lived hunger strike in a last-ditch effort to get meetings with government officials, but abandoned it a few days in when it became clear their efforts were futile. (Other leaders had left the movement when its chances of success became slim.)
Many of the few hundred remaining protestors left the site, near the city government, earlier Thursday in order to avoid arrest. Police removed protestors one at a time, according to CNN, finishing the process by 9:45 p.m. "I want real democracy, I want universal suffrage," one reportedly shouted while being taken away.
They cleared makeshift tents, cardboard, and umbrellas, which had become the symbols of the protest movement. Soon after, a road that had been blocked by demonstrators for weeks was opened to traffic.
But not everyone abandoned hope. "I don't think we can stop the police," a student named Frank Cho told Time before the crackdown began. "In two or three months, we will come out with bigger numbers and stronger faith."
Below, more images from the destroyed protest sites.