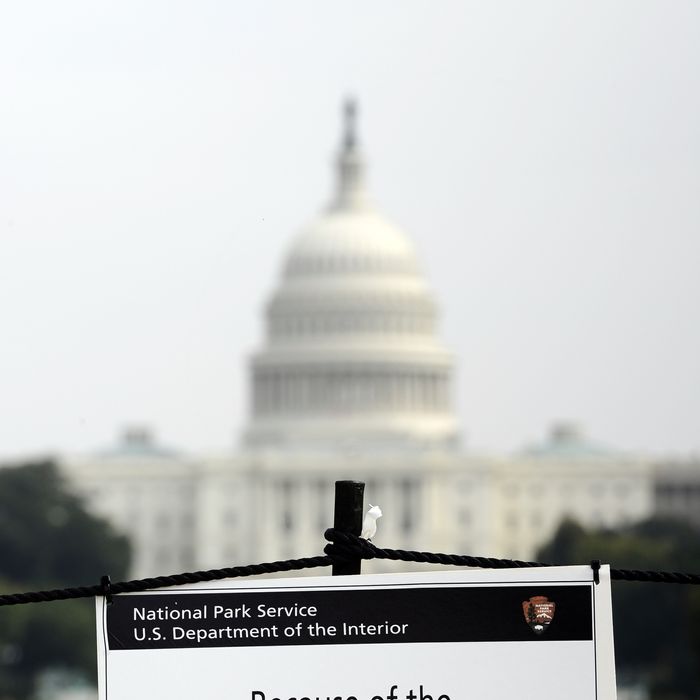 Photo: Jewel Samad/AFP/Getty Images
While the Senate has a few days to make a mess of things, on Thursday night the House narrowly passed the $1.1 trillion spending bill, with less than three hours to go before the midnight deadline for a government shutdown. The "Cromnibus" needed 218 yeas to pass and was approved 219-206. Now it moves to the Senate, where it's expected to pass — though not tonight. The House has approved a stopgap measure that gives the Senate two more days to consider the legislation. President Obama supports the bipartisan bill and called lawmakers to urge them to vote for it, which put him on the same side as Speaker John Boehner, and pitted him against some members of his own party, including Senator Elizabeth Warren and House Minority Leader Nancy Pelosi.
The chances of a shutdown were slim, but it seemed possible that Congress would kick the can down the road by passing a short-term funding measure after liberal Democrats bailed on the package at the last minute. While some conservatives were in favor of shutting the government down over Obama's immigration reform action, the Cromnibus puts that fight on hold. It keeps most of the government open through September, but only funds the Department of Homeland Security through February. When it became clear that GOP leaders were still having problems securing support for the bill, Democrats decided to press to remove two provisions they find particularly objectionable: one that eases banking regulations and another that allows individuals to increase the amount they donate annually to national political parties from $32,400 to $324,000.
With conservative Republicans and liberal Democrats both opposing the bill, Thursday night's vote was unusually dramatic. However, it seems the calls to lawmakers from Obama, Vice-President Biden, and at least two cabinet secretaries worked (or maybe it was Boehner's threat earlier in the day that "If we don't get finished today we're going to be here until Christmas").
Shortly after the vote, Senate Majority Leader Harry Reid tweeted:
There was one upside to tonight's seemingly unnecessary congressional squabbling. After a smattering of applause when the vote passed, House Minority Whip Steny Hoyer took the floor to recognize 88-year-old Michigan representative John Dingell, who is retiring as the longest-serving member of Congress ever. "We have one more vote," Hoyer said. "That will be the last time that John Dingell votes in this House after 59 years. A great servant of our country." We're not saying this whole thing was a scheme to give Dingell the CSPAN ratings he deserves, but it does seem fishy.
This post has been updated throughout.