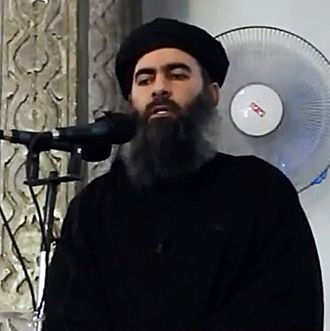 Photo: Anadolu Agency/Getty Images
A wife and child of ISIS leader Abu Bakr al-Baghdadi have been captured in Lebanon, the country's authorities say. Apparently, they were apprehended in the country's northeast through cooperation between Lebanese and Iraqi intelligence, and were traveling under assumed names. 
Syrian territory along the Lebanese border is generally dominated by government forces, while ISIS fighters control many regions in the country's northeast. It's not immediately clear how the woman, identified as Iraqi Saja al-Dulaimi, was able to get through to that area. According to the Guardian, the child she was traveling with was actually Baghdadi's daughter (contradicting earlier reports that it was his son), and the child's paternity was verified through DNA tests. While there aren't many details available about Baghdadi, the ISIS leader who seldom appears in public and only sporadically releases audio statements, what is known suggests that Dulaimi isn't his only wife — Baghdadi is said to have at least two others. 
It seems that Lebanese officials hope to use the captured duo as a bargaining chip with the terrorist group, provided that they haven't fallen out of favor with leaders and weren't trying to, you know, flee to Lebanon. (Although ISIS's taste for revenge may mean they're even more eager to get back a rebellious ex-wife.) Dulaimi is said to have previously been released from prison as part of a prisoner swap with militants for a group of nuns. Lebanon may have its eye on getting back a bunch of soldiers, and a wife of the Caliph is a powerful bargaining chip.