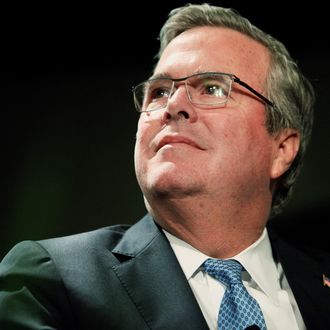 Photo: Andy Jacobsohn/Getty Images
After hundreds of articles detailing how each member of the Bush clan feels about the prospect of Jeb Bush running for president, this morning we entered an exciting new phase in 2016 speculation:
The accompanying Facebook post reads a bit like an annual Christmas letter, but there's some important information buried in the former Florida governor's musings about how the family "shared good food and watched a whole lotof football (sic)" over Thanksgiving:
We also talked about the future of our nation. As a result of these conversations and thoughtful consideration of the kind of strong leadership I think America needs, I have decided to actively explore the possibility of running for President of the United States.

In January, I also plan to establish a Leadership PAC that will help me facilitate conversations with citizens across America to discuss the most critical challenges facing our exceptional nation. The PAC's purpose will be to support leaders, ideas and policies that will expand opportunity and prosperity for all Americans.
Last year, former first lady Barbara Bush famously declared, "we've had enough Bushes" in the White House, but she's reportedly changed her tune in recent months. The family's new message for America: Once you've survived 12 years of Bushes, what's 4 to 8 more?