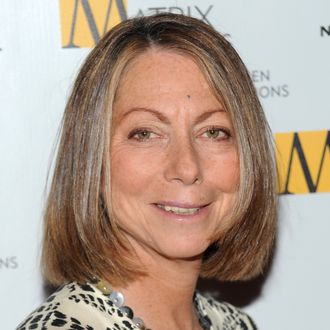 Photo: Evan Agostini/AP2010
Former New York Times editor and boxing champion Jill Abramson is back in print, transitioning from running the newspaper of record to writing a feature for a constellation of free Manhattan weeklies owned by Straus Media. A byline is a byline, folks.
Between speaking gigs and her new start-up, Abramson has been busy since her infamous ouster from the Times in May. But she's also found the time to practice some good old-fashioned long-form journalism. Her new 3,000-word piece about pedestrian deaths is called "The Tragedy After," and will run in papers like the West Side Spirit and Our Town on Thursday. Abramson herself was struck by a delivery truck while crossing the street in 2007.
"I love scrappy and this is a community story," Abramson told Capital New York of her decision to run the story in Straus publications. Somehow we doubt she was paid $100,000 for it.