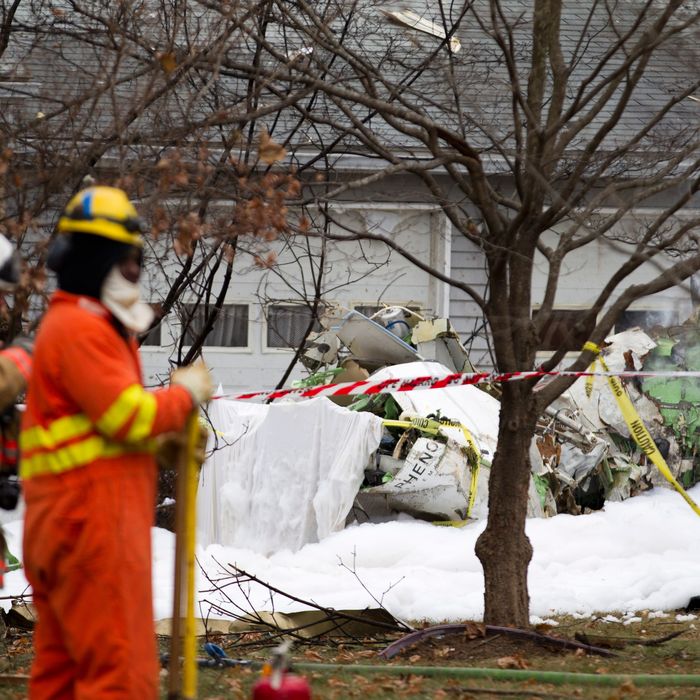 Photo: Jose Luis Magana/Corbis
At least three people were killed when their small plane crashed into a home in Gaithersburg, Maryland, at 10:45 a.m. on Monday. NBC News reports that three of the house's residents — a man, a 2-year-old, and a baby — are unaccounted for. The man's wife and his 5-year-old child seem to have been out when the accident occurred. Update: The AP reports that "three people were in the home when the jet crashed and were killed. They did not immediately identify the residents but have said a family of five lives in the home, and that a man and a school-aged child were safe."
According to the FAA, the Embraer EMB-500/Phenom 100 twin-engine jet was preparing to land at the nearby Montgomery County Airpark when something went wrong. A neighbor described what he saw to the Associated Press: "This guy, when I saw him, for a fast jet with the wheels down, I said, 'I think he's coming in too low. Then he was 90 degrees sideways and then he went belly-up into the house and it was a ball of fire. It was terrible." More from the AP:
The two-story, wood-frame home was gutted by the impact of the crash and ensuing blaze. The first floor was nearly completely blown out and smoke drifted from a gaping hole in what was left of the collapsing roof. Two adjacent homes also had significant damage, with one of them clearly having caught fire, as well.
Firefighters managed to put out the blaze, but steam is still rising from the wreckage. The main road to the house has been shut down, and National Transportation Safety Board investigators have joined the local police at the scene.