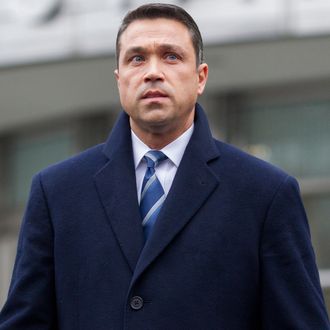 Photo: Michael Graae/Getty Images
Michael Grimm, the felon who also happens to represent Staten Island in Congress, may finally be resigning from his elected position. The embattled politician pleaded guilty to a felony charge of "aiding in the preparation of a false tax return" last week, in exchange for having more than a dozen other charges dropped.
Sources tell the New York Daily News that Grimm decided to give up his seat after speaking to House Speaker John Boehner, and will announce his resignation Tuesday or Wednesday. (The Speaker's office declined to comment, saying that what happened was a private conversation.)
Grimm will be sentenced for his plea in June and faces as many as three years in prison. "As of right now, I'm still in a capacity to serve and that's exactly what I plan on doing," he said last week. "I'm going to get back to work and work as hard as I can."
The felony plea wasn't even the solution to all of the congressman's problems. Earlier this year, Grimm — who apparently has anger-management issues — threatened to throw NY1 reporter Michael Scotto "off this fucking balcony" in the Capitol Rotunda when he asked about those very charges. When Scotto pushed back, Grimm responded: "I'll break you in half. Like a boy."
Yet despite the felony charges and the congressman's other flaws, he easily won reelection this fall against Domenic Recchia, a Brooklynite who ran the worst campaign ever. The local papers' begrudging endorsements of Grimm may be the year's best New York reads — and the New York Daily News included a prescient kicker:
Should he be convicted, Grimm has promised to resign, paving the way for a match between two fresh candidates. All the better.