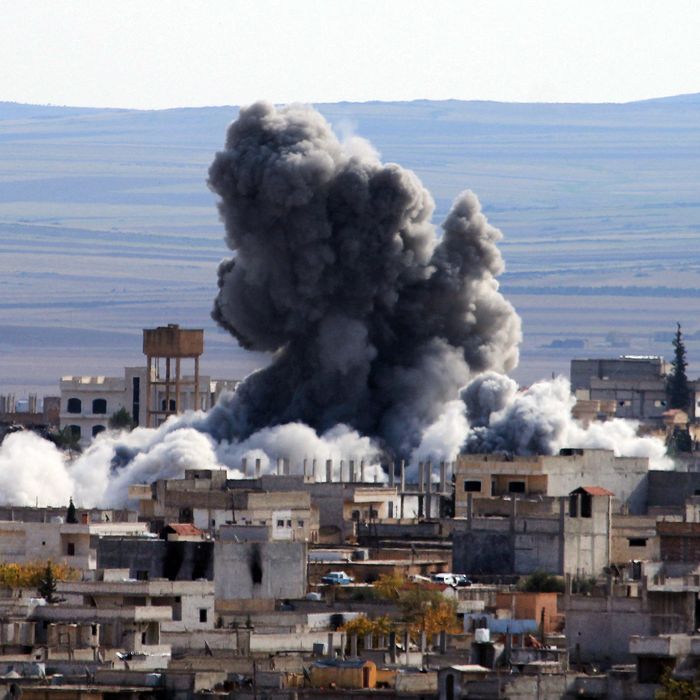 Photo: Halil Fidan/Anadolu Agency/Getty Images
Three high-ranking militants close to ISIS leader Abu Bakr al-Baghdadi were taken out by American air strikes, officials have confirmed. Those killed include Haji Mutazz, Baghdadi's Iraq deputy, and his Iraq military leader Abd al Basit. The third man, slightly lower-ranking, is Radwan Talib, head of the large Iraqi city of Mosul.
Chairman of the Joint Chiefs of Staff Martin Dempsey told The Wall Street Journal the deaths were "disruptive to their planning and command and control." The victories come as the U.S. is expanding its fight against the terrorist group.
"I can confirm that since mid-November, targeted coalition air strikes successfully killed multiple senior and mid-level leaders within the Islamic State of Iraq and the Levant," Pentagon Press Secretary Rear Admiral John Kirby said in a statement. "We believe that the loss of these key leaders degrades ISIL's ability to command and control current operations against Iraqi Security Forces, including Kurdish and other local forces in Iraq."
Another strike — also in mid-November — almost took out Baghdadi himself. Early reports said he was at least wounded, but the ISIS leader released an audio recording shortly after the attack took place to dispel such rumors. In it, he praised ISIS affiliates around the world for their loyalty, and announced a plan to join forces with the Nusra Front against other rebel groups.