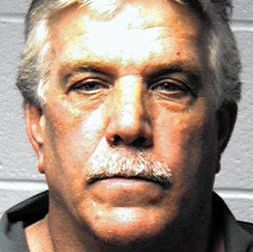 Photo: Northampton County Prison
In late November, 53-year-old Pennsylvania man Gregory R. Graf was charged with the murder of his stepdaughter, Jessica Padgett, who worked at a local day care. According to the DA, Graf shot Padgett in the back of the head before burying her corpse in his backyard. Unfortunately, that's not the worst part of the story.
Video found on Graf's computer proves he "committed a variety of sexual acts against Padgett" after she was dead, causing investigators to conclude that the murder was motivated by necrophilia.
"I believe it was a direct motive, in my opinion," the Northampton County DA said at a press conference, "and that's what we're going to be arguing."
Graf's actions mean he's managed to escape being sentenced to the death penalty if found guilty:
The disturbing revelation came as Morganelli said he has authorized the filing of an abuse of corpse charge against Graf, 53. A misdemeanor, it means that Morganelli will be unable to seek the death penalty for Graf, considering that the alleged sexual abuse occurred after — and not before — Padgett was killed.

Under Pennsylvania law, a murder in perpetration of a felony is an aggravating factor that allows prosecutors to pursue capital charges. Rape rises to that level, but the sexual desecration of a corpse does not, as case law has established, Morganelli said.
Graf is currently being held without bail in Northampton County Prison.