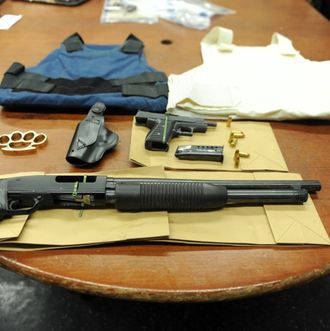 The NYPD has now arrested at least six people for threatening cops in the wake of the deadly shooting of Wenjian Liu and Rafael Ramos. (According to a Wednesday statement, the department has opened 40 threat investigations so far.) The latest arrestee is 38-year-old Elvin Payamps, who was taken into custody after someone overheard him talking about attacking police officers on Christmas Eve.
According to the New York Daily News, Payamps was in a TD Bank in Middle Village, Queens, when he allegedly told someone on his cell phone, "They should have killed two white cops, instead of a Hispanic and an Asian, if the guy really wanted to send a message … I'm going to kill another cop. Another cop should be killed before Christmas. It should be a white cop." Alarmed, 54-year-old Charles Otero called 911. Payamps had left the bank by the time the police arrived, but law enforcement soon located him at a mall about a mile away.
A search of Payamps's home turned up a loaded semiautomatic pistol, a shotgun, two bulletproof vests, and a pair of brass knuckles. He was charged on Thursday with weapons possession, aggravated harassment, and criminal impersonation. Of the circumstances that led to Payamps's arrest, his lawyer argued, "When people overhear things, sometimes they don't hear it right."
Payamps joins 26-year-old Jose Maldonado, who turned himself in Wednesday after investigators saw that he wrote on Facebook, "Might just go out and kill two cops myself!!!" (The Daily News reports that Maldonado, who was taken to Rikers Island, has apologized for the threat, explaining, "I was hanging out with my family and had a little too much to drink and posted up some negative comments. [I] wouldn't of did that on my own.") Some of the other threat-related arrests include 18-year-old Devon Coley (he also made a menacing Facebook post) and a 52-year-old man who walked into a police station, asked, "If I punch you in the face, how much time will I get?" and then refused to leave. This is really not the time to do that sort of thing.