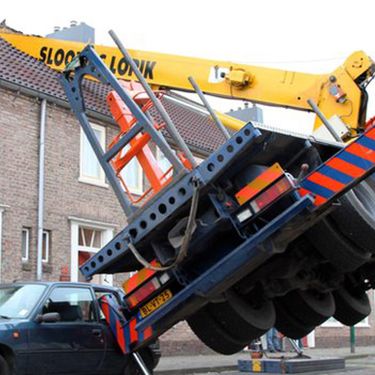 A Dutch guy's attempt to publicly humiliate his girlfriend to show her how much he loves her went horribly, horribly wrong on Saturday. CNN reports that the unnamed IJsselstein resident decided to rent a crane so that he could hoist himself up to his girlfriend's window and dramatically propose. Turns out that idea is just as terrible as it sounds.
The crane accidentally toppled over while it was being hoisted up to her window, knocking out part of the neighbor's roof. THEN, because this is the kind of story that internet gold is made of, another crane rented to extract that crane knocked it back into the apartment building, destroying the rest of the neighbor's roof. Six homes had to be evacuated, and the building has been declared unsafe.
She said yes.
I'm not gonna say this is a sign about the fate of your marriage, but … it's totally a sign about the fate of your marriage.