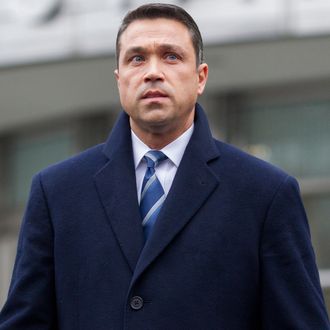 Photo: Michael Graae/Getty Images
The people of Staten Island chose to reelect Congressman Michael Grimm though he was facing a 20-count federal indictment, but they may be deprived of their right to be represented by a reporter-threatening felon in the U.S. House of Representatives. Grimm pleaded guilty on Tuesday to one count of aiding in the preparation of a false tax return in 2009. He was accused of hiring undocumented immigrants at Healthalicious, the Upper East Side restaurant he owned from 2007 to 2010, underreporting how much he paid them, and lying under oath. "Although it was a little restaurant, I made some big mistakes," Grimm told reporters following his court appearance.
As as a result of the plea deal, the other charges will be dropped. Now Grimm must pay an undetermined amount of restitution to the IRS and New York State, and he's facing a maximum sentence of three years in prison.
Grimm won't be sentenced until June, and he said he intends to keep his job for the time being. "As of right now, I'm still in a capacity to serve and that's exactly what I plan on doing," Grimm said. "I'm going to get back to work and work as hard as I can."
According to NBC News, it's technically possible for a convicted felon to serve in Congress, but it's very unlikely that fellow members will allow that to happen. Congressional Research Service found "no express constitutional disability" or "disqualification" exists for members of Congress convicted of crimes. Grimm could be expelled from the House if two thirds of his colleagues vote to kick him out, but that's only happened five times (and three of those congressmen were booted for disloyalty during the Civil War).
It's far more probable that the Republican leadership will pressure Grimm to resign. House Minority Leader Nancy Pelosi already called on Speaker John Boehner to do so, but his office said, "We won't have any announcements until the Speaker discusses the matter with Mr. Grimm." Boehner's probably still working on a good balcony-tossing quip.