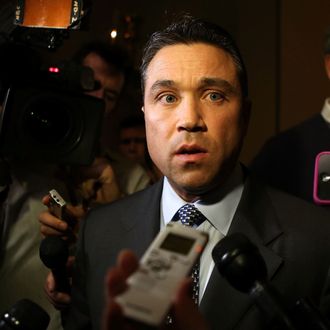 Photo: Alex Wong/Getty Images
It looks like embattled Staten Island congressman Michael Grimm will now plead guilty Tuesday to one felony count of tax evasion, the New York Times reports. The Republican, who won reelection to the House despite a 20-count federal indictment, had originally pleaded not guilty and was set to fight the charges in a trial beginning in February.
It's not clear yet if Grimm will resign his congressional seat, though he said in a midterm debate that he'd give up his office if he were unable to serve. He could receive up to three years in prison for a guilty plea, but if he avoids jail time, he's expected to fight to hold his seat, according to the Daily News.
Grimm was accused of underreporting and concealing more than $1 million when he ran a health restaurant on the Upper East Side, before serving in Congress. He allegedly filed fraudulent tax records and, in addition to violating tax law, he was charged with perjury, obstruction of justice, and mail and wire fraud, among other counts.