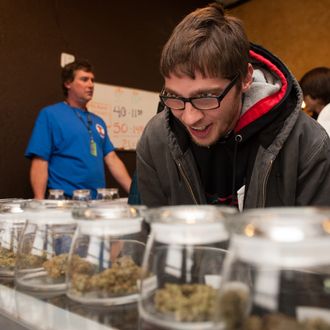 Photo: Theo Stroomer/2014 Getty Images
Not unlike that kid from your freshman-year dorm, Nebraska and Oklahoma are no longer willing to just ignore the stoners who are always hanging out across the hall. On Thursday, the attorneys general of the Cornhusker and Sooner states sued Colorado in an effort to overturn part of their neighbor's recreational marijuana legislation. Not cool, guys.
The lawsuit, filed in the United States Supreme Court, argues that Colorado "created a dangerous gap in the federal drug control system" when its citizens voted to legalize the sale of small amounts of weed to people over the age of 21. From the Denver Post:
…The complaint focuses on harms the two states say have come to them as a result of legal pot sales in Colorado. The lawsuit says the states have suffered increased costs from arrests, the impoundment of vehicles, the seizure of contraband, the transfer of prisoners, and other problems associated with marijuana — which is strictly illegal in the two states — flowing into Nebraska and Oklahoma. The states say the problems amount to "irreparable injury."
While the lawsuit doesn't include any numbers that support its claims, police officials in areas that border Colorado say that they have been spending significantly more time and resources on marijuana-related busts since Amendment 64 went into effect in January.
Colorado's own attorney general has vowed to fight the legal challenge, which he described as "without merit." "Because neighboring states have expressed concern about Colorado-grown marijuana coming into their states, we are not entirely surprised by this action," said John Suthers. "However, it appears the plaintiffs' primary grievance stems from non-enforcement of federal laws regarding marijuana, as opposed to choices made by the voters of Colorado."

The New York Times reports that Nebraska and Oklahoma seem to be mostly interested in shutting down "the commercial side of marijuana legalization, which created new systems of regulations and taxes as well as recreational stores, dispensaries and production facilities that are monitored and licensed by state officials." The lawsuit doesn't specifically target a person's right to simply possess and use weed, which means that consuming the drug will likely remain legal in Colorado even if Nebraska and Oklahoma succeed at harshing the state's mellow.