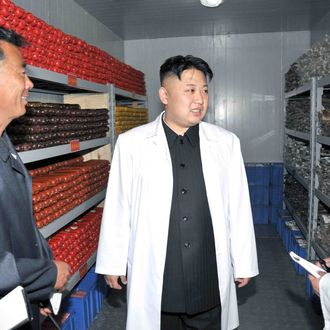 Photo: KNS/AFP/Getty Images
On Friday afternoon, the FBI released a statement saying there was definitive proof that the North Korean government was behind the Sony hack. (Others have their doubts.) North Korea begs to differ! On Saturday morning, a spokesperson for the North Korean foreign ministry once again denied his country's involvement in the cyberattack and offered to help the United States find out who was really responsible for the surreal death of The Interview.
What if the U.S. blows off North Korea's gesture of goodwill? Well:
"The U.S. should bear in mind that it will face serious consequences in case it rejects our proposal for joint investigation and presses for what it called countermeasures while finding fault with" North Korea, the spokesman said in a statement carried by Pyongyang's official Korean Central News Agency, or KCNA.

"We have a way to prove that we have nothing to do with the case without resorting to torture, as the CIA does," he said, adding that the U.S. lacks any specific evidence tying North Korea to the hacking.
The White House has not yet responded to the proposal. It might be a while.