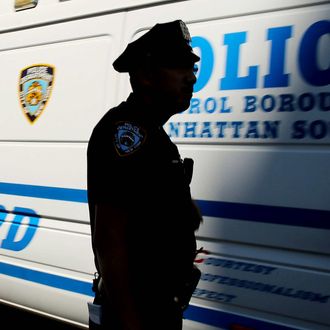 Photo: Spencer Platt/Getty Images
On the day two NYPD officers were fatally shot, a widely circulated memo purporting to be from the Patrolmen's Benevolent Association told officers that "Absolutely NO enforcement action in the form of arrests and or summonses is to be taken unless absolutely necessary." The group denied that it issued the memo, though its president, Pat Lynch, used language similar to what was in the document when he said there's "blood on the hands" of Mayor de Blasio. Regardless of who wrote the memo, it appears officers took the message to heart. The New York Post reports that NYPD officers are engaged in a "virtual work stoppage," citing statistics that show arrests in the city are down 66 percent for the week starting December 22, compared to the same period last year.
The paper reports that NYPD officers are making arrests only "when they have to," leading to a massive drop in their response to low-level crimes:
Citations for traffic violations fell by 94 percent, from 10,069 to 587, during that time frame.

Summonses for low-level offenses like public drinking and urination also plunged 94 percent — from 4,831 to 300.

Even parking violations are way down, dropping by 92 percent, from 14,699 to 1,241.

Drug arrests by cops assigned to the NYPD's Organized Crime Control Bureau — which are part of the overall number — dropped by 84 percent, from 382 to 63.
There's been no official confirmation that officers have purposely stopped making arrests, but one source told the Post it isn't just a political statement. "The call last week from the PBA is what started it, but this has been simmering for a long time," said one source. "This is not a slowdown for slowdown's sake. Cops are concerned, after the reaction from City Hall on the Garner case, about de Blasio not backing them."
De Blasio is set to meet with the leaders of the city's five police unions today in an attempt to smooth the rift between the two sides. Even before the report on the drop in arrests, that promised to be an extremely difficult task. CBS News reports that in a subsequently deleted tweet on Monday night, the Sergeants' Benevolent Association said de Blasio "needs to humble himself and change his philosophical views on policing and the way protests have occurred within the city."