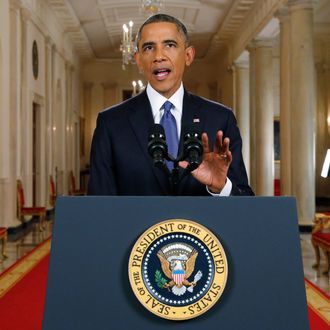 Photo: Jim Bourg-Pool/Getty Images
Attention all meninists! President Obama has subtly acknowledged and even offered his approval of the brewing feminist revolution. At his last press conference of 2014, he made a point to call on only female reporters, even flat-out ignoring a question shouted by a man in favor of calling on a woman. Dudes, ya burnt.
The Washington Post has a list of names of the women the president took questions from:
Carrie Budoff Brown,

 

Politico
Cheryl Bolen, Bloomberg
Julie Pace, Associated

 

Press
Lesley Clark, McClatchy
Roberta Rampton, Reuters
Colleen M. Nelson, Wall Street

 

Journal
Juliet Eilperin, Washington

 

Post
April Ryan, American Urban

 

Radio
Misandry has crept its way all the way up to the White House.