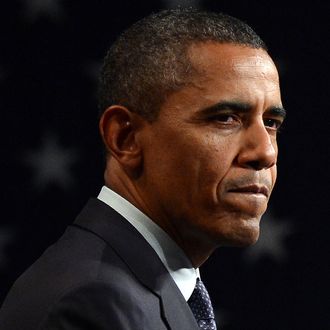 Photo: Jewel Samad/AFP/Getty Images
President Obama probably won't be going to Ferguson anytime soon, but he is prepared to throw some money at a few of the problems highlighted by the shooting of Mike Brown and the often brutal crackdown on the protests that followed. On Monday, the Associated Press reported that Obama has proposed $263 million in federal spending on "expanding training for law enforcement," "adding more resources for police department reform," and, most notably, equipping cops with body cameras.
Obama wants to spend $75 million on the body cameras, with state and local governments providing matching funds, which should be enough to record 50,000 officers as they interact with the public throughout the day. Of course, the use of body cameras isn't a totally new idea: Several cities (and small towns) have experimented with them over the last couple of years, with the NYPD announcing a pilot program this September. It certainly sounds more efficient than relying on civilians to film their encounters with the cops.
The president also announced an executive order increasing oversight on the federal programs that provide police forces with military equipment, which drew major attention after everyone saw the body armor, assault rifles, and armored trucks deployed against demonstrators in Ferguson this summer. According to the White House, a review of those programs found "a lack of consistency" in how they're "structured, implemented and audited." "Training has not been institutionalized, specifically with respect to civil rights and civil liberties protections, or the safe use of equipment received through the federal government," said a report.
Obama won't attempt to convince Congress to stop the transfer of military equipment to cops, which many insist is essential to protecting American cities against terrorism. Instead, according to what administration officials told the Hill:
…The president will ask departments to develop a consistent list of equipment that police departments are eligible to acquire, require a local civilian review of all requests, and mandate police departments receive the necessary training to use the equipment properly.

The executive order will also require that departments generate after-action analysis reports when they use federal equipment and develop a database cataloging equipment sold or given to local departments.
It's a start!