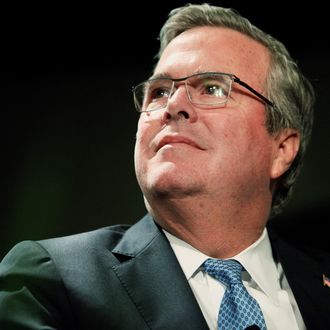 You like me! You really, really like me!
Photo: Andy Jacobsohn/Getty Images
This week The Wall Street Journal is convening a "CEO Council," which is "an annual Washington gathering of top business leaders who meet to hear from government leaders and offer their own views on policy priorities." One fact being communicated in this rare and much-needed opportunity for business elites to communicate their political preferences is that the CEO community reports surprisingly low support for Jeb Bush's prospective presidential candidacy. According to Gerald Seib, Bush is the candidate of choice for a mere 73 percent of the CEOs.
This is a problem because, incredible though it may sound in this day and age, Bush's strong-but-not-unanimous support among CEOs will be diluted by votes from millions of Americans who have not been entrusted with the leadership of a major firm.