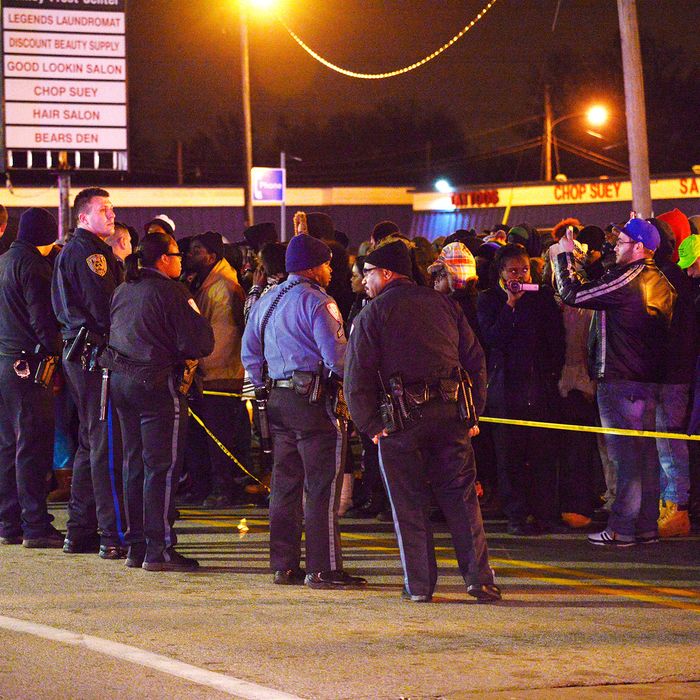 Photo: James Cooper/Corbis
A confrontation at a Berkeley, Missouri, gas station Tuesday night left a black 18-year-old dead, after officials say he pulled out a gun and pointed it straight at a local police officer. The officer — who police say was responding to a reported theft — then fired three shots at Antonio Martin, killing the teen.
"There are no winners here. There are nothing but losers," said St. Louis police chief John Belmar during a briefing, though he added that Martin had made "bad choices." Officials say the officer involved, a white six-year veteran, was acting in self-defense when he shot the teen. Martin is not believed to have fired back, but a handgun that didn't belong to the officer was shown in video footage of the scene of the shooting. A timestamp on the gas station's security tape shows that the incident happened just before 11:15 p.m. Moreover, the officer in question had apparently been assigned a body camera, which wasn't working at the time of the shooting, and his vehicle's dashboard camera was off because it only works when the car's lights are flashing.
The shooting happened in a part of the country still reeling from the death of another black teenager, Michael Brown, who was unarmed when he was shot by former police officer Darren Wilson in August. No doubt because of that, the St. Louis County police immediately released the gas station's surveillance video. It's difficult to tell what's going on in the grainy footage, but the moment when the police claim Martin aimed his pistol at the cop comes at the end: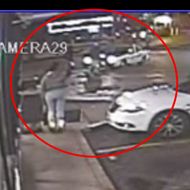 According to local reports, a crowd of several hundred protestors quickly gathered around the station. A few allegedly threw rocks at the police, leading to some arrests. Meanwhile, local officials — even some of those who were outspoken about the injustice of the Brown shooting — said that they were withholding judgement about the unfolding situation. "While tensions are high, we need to be respectful of what the facts are, and then our actions need to follow those facts," State Senator Maria Chappelle-Nadal told CNN. "While we're waiting for the facts, we need to have some calm so we know that's going on. Not every case is the same."
Martin's mother, meanwhile, says her son was simply on his way to visit his girlfriend on the night of his death:
This post has been updated throughout.