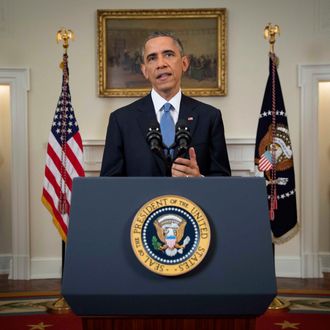 Photo: Doug Mills/Bloomberg
President Obama waited until a day after the conclusion of the 113th Congress to announce efforts to normalize relations with Cuba, but unsurprisingly the biggest shift in relations between the two countries in five decades drew passionate responses from lawmakers now dispersed around the country. While most noted that they're happy to see American Alan Gross released after five years in Cuban captivity, many went on to lambast the president in especially harsh terms for the historic move. "The president's decision to reward the Castro regime and begin the path toward the normalization of relations with Cuba is inexplicable," said Florida Senator Marco Rubio, who is Cuban-American. "Appeasing the Castro brothers will only cause other tyrants from Caracas to Tehran to Pyongyang to see that they can take advantage of President Obama's naiveté during his final two years in office."
Rubio, who will be chairman of the Senate Foreign Relations subcommittee on the Western Hemisphere in the next Congress, vowed to make "every effort to block this dangerous and desperate attempt by the President to burnish his legacy at the Cuban people's expense."
The Senate Foreign Relations Committee's outgoing chairman, New Jersey Senator Robert Menendez — a Democrat of Cuban descent — was similarly incensed, saying it was "a swap of convicted spies for an innocent American" that "sets an extremely dangerous precedent." "President Obama's actions have vindicated the brutal behavior of the Cuban government," added the senator. "There is no equivalence between an international aid worker and convicted spies who were found guilty of conspiracy to commit espionage against our nation … This asymmetrical trade will invite further belligerence toward Cuba's opposition movement and the hardening of the government's dictatorial hold on its people."
Ted Cruz, the third senator with Cuban roots, has yet to weigh in. As a young man, his father, Rafael Bienvenido Cruz, fought with Fidel Castro's forces in the effort to overthrow dictator Fulgencio Batista. After being captured by the U.S.-backed leader, he was jailed and beaten. He later became a critic of Castro and fled to the U.S. in 1957.
Senator Lindsey Graham added:
House Speaker John Boehner joined those criticizing the deal, calling it "another in a long line of mindless concessions" to a harsh dictatorship. "Relations with the Castro regime should not be revisited, let alone normalized, until the Cuban people enjoy freedom — and not one second sooner," he said.
Obama was dubbed the "Appeaser-in-Chief" by Representative Mario Diaz-Balart, another Cuban-American Florida Republican. "These changes to policy will further embolden the Cuban dictatorship to continue brutalizing and oppressing its own people as well as other anti-American dictatorship and terrorist organizations," he said. Fellow Florida Republican Representative Carlos Curbelo called normalizing relations "reckless conduct that damages U.S. national security and benefits Cuba's dictators."
Newly announced 2016 contender Jeb Bush chimed in, saying that it's a "tragedy" that Gross was imprisoned, and it's "great news" that he's coming home. However, he added that until Cuba changes, "I don't think we should be negotiating with a repressive regime to make changes in our relationship."
The reaction wasn't all negative, even from Republicans. Arizona Senator Jeff Flake sent out two tweets celebrating Gross's return, and said it was an "honor" to be there when he touched down on American soil today. "When I visited Alan last month, he expressed the hope that his ordeal might somehow lead to positive changes between the United States and Cuba," he said. "With today's significant and far-reaching announcements, I think it already has."
And of course, Obama received statements of support from several members of his own party, including Senators Dianne Feinstein and Patrick Leahy. "Those who cling to a failed policy that did nothing to help Alan Gross, and who may oppose the President's actions, have nothing to offer but more of the same," said Leahy. "That would serve neither the interests of the United States and its people, nor of the Cuban people. It is time for a change."