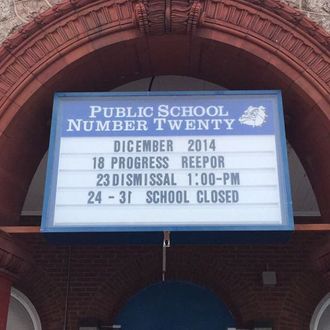 The principal of Public School 20 in Patterson, New Jersey, was reassigned this week after a sign that featured two misspellings stayed up outside the school for several days, according to NJ.com.
The sign, which was installed by a custodian, misspelled "December" as "Dicember" and "report" as "reepor." An angry school-board member posted a picture of the sign to Facebook with the outraged caption, "How can we expect our children to learn how to spell when the administration can't??"
The principal, Antoinette Young, was already under review for "unrelated performance issues" and is now being reassigned.