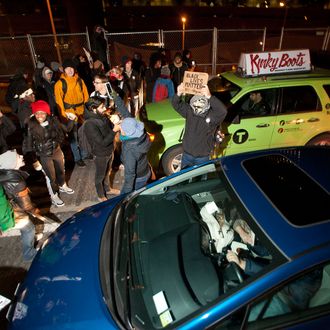 Photo: Konstantin Sergeyev
Though Saturday's massive demonstration against police brutality was almost entirely peaceful, the NYPD did manage to make one arrest. Twenty-nine-year-old Eric Linsker has been charged with two counts each of assaulting a police officer, robbery, and rioting, plus resisting arrest, reckless endangerment, and pot possession. The charges stem from an incident on the Brooklyn Bridge, where cops clashed with protesters who shut down traffic in both directions for several hours.
CBS 2 reports:
[Two] lieutenants allegedly saw Linsker trying to throw a large garbage can down on a street below where other police and demonstrators were walking. They attempted to arrest him, but protesters intervened, pulling the man away from police and punching and kicking the cops in the face and head, authorities told 1010 WINS' Kevin Rincon. The demonstrators also knocked the two lieutenants down to the ground and punched and kicked them, police said. One lieutenant sustained a broken nose.
Linsker left the scene, dropping his backpack in the process. The police found the bag and apparently used its contents to identify Linsker, who was taken into custody at his apartment at around 4 a.m. on Sunday. "Let us be clear: there is no place whatsoever for violence of any kind, whether against the police or against our fellow citizens, in New York City," said Mayor de Blasio in a statement about the arrest. "We will not allow a small contingent of agitators to bring disorder and violence to these protests."