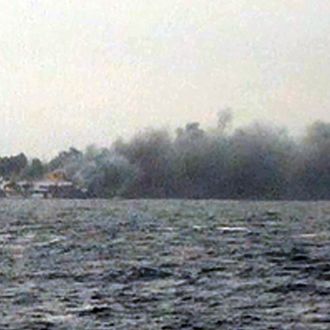 Greek and Italian rescue crews worked all day and into the night to evacuate a burning ferry drifting in the Adriatic Sea. Reuters reports that a fire broke out in a garage on the lower deck of the Norman Atlantic sometime between 4:30 a.m. and 6 a.m. on Sunday. The ship, which was on its way from Patras, Greece, to Ancona, Italy, is currently about 13 miles from the coast of Albania. There were originally 422 passengers and 56 crew members onboard, but the Italian navy told The Guardian that 190 people had been brought to safety as of 14 hours after the blaze began. The ferry was also carrying around 200 cars.
According to the Italian coastguard, the fire has been "tamed," though not extinguished. The heavy rain interfering with the rescue operation is said to have helped dampen the flames.
From Reuters: "The Italian navy said two Italian air force helicopters, one Greek Superpuma helicopter and an Italian plane were taking part in the rescue, winching up passengers in small groups." Each helicopter trip is reportedly taking about 15 minutes.

Meanwhile, several ships have surrounded the Norman in an attempt to break the strong winds that are preventing smaller rescue boats from approaching it. The Italian coastguard also said the ferry has been somewhat stabilized by cables attached to nearby vessels, but some reports say it's unclear whether that has actually happened.
Greek shipping minister Miltiadis Varvitsiotis told reporters that the situation was "one of the most complicated" he had ever encountered, but he expressed some optimism as darkness fell: "It will be a very difficult night and I hope that everything will go well and we will rescue all passengers and all crew members." So far, only one death — that of a Greek man who tumbled into the water — has been reported.