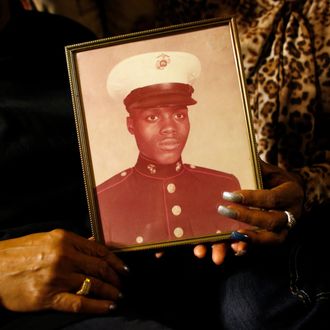 After ten months, someone has finally been charged in the case of Jerome Murdough, the mentally ill Rikers Island inmate who "baked to death" in his 101-degree cell. The New York Times reports that Rikers guard Carol Lackner was indicted in Bronx Supreme Court on Monday for "falsifying business records and offering a false instrument for filing, both felonies, and other misdemeanors, including official misconduct." According to prosecutors, Lackner lied when filling out a Department of Correction logbook, claiming that she checked on Murdough and his fellow prisoners six times on the night the 56-year-old died when surveillance footage shows that she left them alone for at least two hours.
Here's what Lackner told the Times about her February 15 shift at Rikers' mental health unit, which began sometime after 11 p.m.: 
While the unit's warden and the supervisor in charge of the jail's heating system were both demoted back in April, Lackner is the only guard to have been punished after Murdough died. (She was suspended for 30 days and is now on modified duty.) The eight-year Department of Correction veteran is also the only person currently facing criminal charges related to the incident, and no one has been directly charged with Murdough's death.