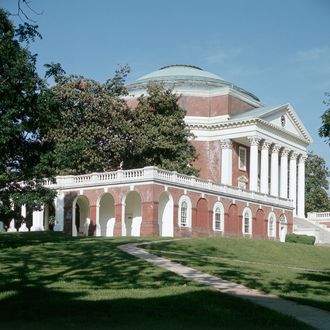 Photo: Angelo Hornak/Corbis
Rolling Stone's effort to correct its problematic report about an alleged gang rape at the University of Virginia is off to a rough start, as its apology required another significant correction. After the Washington Post's reporting uncovered serious questions about the account given by the alleged victim, identified only as Jackie, Rolling Stone managing editor Will Dana explained in a statement that they honored her request not to contact her attacker due to the "sensitive nature" of her story. "In the face of new information, there now appear to be discrepancies in Jackie's account, and we have come to the conclusion that our trust in her was misplaced," Dana wrote, sparking complaints that the magazine was blaming a rape victim for its own shoddy reporting.
The magazine quietly revised the statement over the weekend, and now the final paragraph reads:
We published the article with the firm belief that it was accurate. Given all of these reports, however, we have come to the conclusion that we were mistaken in honoring Jackie's request to not contact the alleged assaulters to get their account. In trying to be sensitive to the unfair shame and humiliation many women feel after a sexual assault, we made a judgment – the kind of judgment reporters and editors make every day. We should have not made this agreement with Jackie and we should have worked harder to convince her that the truth would have been better served by getting the other side of the story. These mistakes are on Rolling Stone, not on Jackie. We apologize to anyone who was affected by the story and we will continue to investigate the events of that evening.
The original article says "Drew," the man who organized the attack, was a Phi Kappa Psi brother who lured Jackie into a room in the frat house during a party they attended together and assaulted her along with six other men. Jackie said she later ran into Drew at the UVA pool, where they both worked as lifeguards. Among other discrepancies, Phi Kappa Psi says it did not hold a social function on the night of the alleged rape, and none of its members worked at the pool that semester.
The man Jackie identified for the first time last week worked at the pool but was not a member of Phi Kappa Psi. He told the Post in a phone interview that he knew Jackie's name but never met her or took her on a date. Jackie told the paper that she stands by her story.