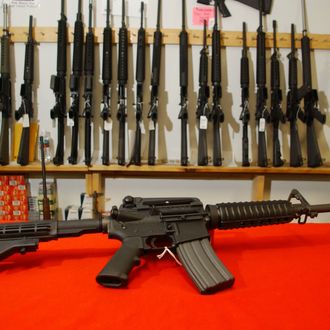 On December 14, 2012, 20-year-old Adam Lanza showed up at Sandy Hook Elementary School with a rifle and fatally shot 20 children and 6 adults. The gun he used — an AR-15 assault rifle marketed as a weapon that will make others "bow down" before you — is manufactured by Bushmaster, and now ten of the victims' families have filed a joint lawsuit against the company.
The lawsuit, which also targets other gun-makers and the store where the Lanzas purchased the weapon, states that "the number of lives lost in those 264 seconds was made possible" because the AR-15 is "engineered to deliver maximum carnage with extreme efficiency." 
According to the Daily Beast:
The lawsuit says the defendants "knew, or should have known" that the sale of the AR-15 "posed an unreasonable and egregious risk of physical injury to others." In addition, it should've known it would've been used in a mass shooting to inflict maximum casualties.
The families are seeking "further relief for monetary damages, puntitive damages, attorneys' fees, costs, and injunctive relief."