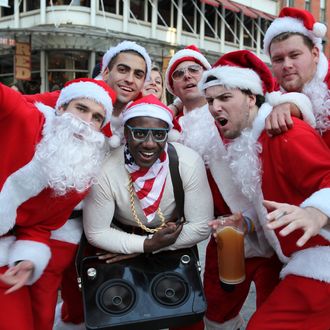 All is merry and bright, because SantaCon 2014 is basically dead. Gothamist reports that the notoriously puke-filled convention's organizers are "scaling back this weekend's festivities," owing to both mounting neighborhood backlash and the rather awkward fact that there's a large-scale anti-police-brutality march planned for the same day.
Instead of planning an anarchistic bar crawl through one very unlucky neighborhood, SantaCon organizers will be posting a list of bars that will welcome the drunken holiday revelers; Santas will be encouraged to only patronize those establishments and to keep the time spent traveling from one place to another to an absolute minimum.
It's still unclear whether there will be one designated spot where all the Santas will congregate at once, but with no major meet-up planned yet, a focus away from the "crawl" part of "bar crawl" and fewer and fewer bars willing to accept the Santas as patrons, it's safe to say SantaCon 2014 will be much more tolerable than Santacons past. That is, if the Santas even bother listening to the clearly very stressed-out organizers.