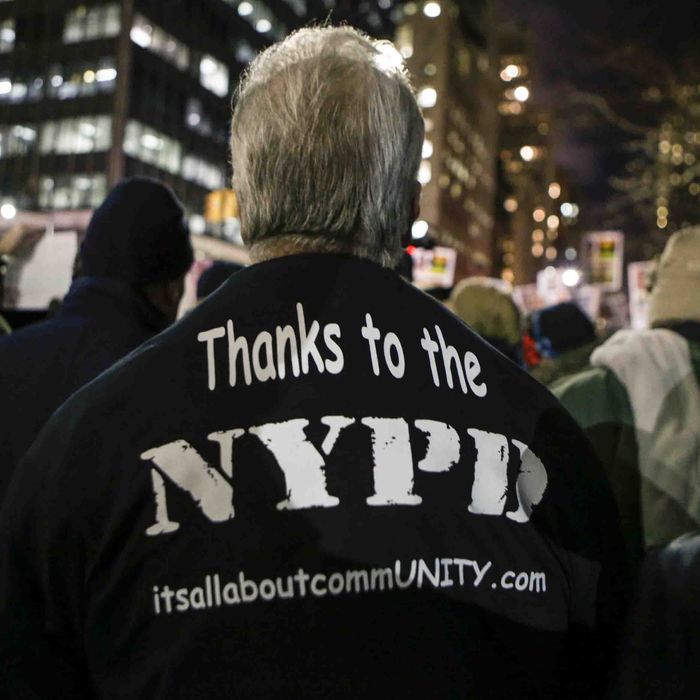 Photo: VIEW press / Demotix/Copyright 2014 Demotix, all rights reserved.
On Friday night, somewhere between 50 and 100 people gathered outside of New York's City Hall for a not-so-hotly-anticipated pro-cop rally. Organizers of the event, which was put together via the Thank You NYPD Facebook page (25,011 likes), told the Village Voice that it was not intended to be a rebuke to the almost-daily protests against the Eric Garner decision and other cases of police brutality. Rather, they said, it was "a support group for the 35,000 men and women who are doing their very best to keep this city in order." The behavior (not to mention clothing) of the people who showed up for the demonstration suggested otherwise.
Several participants sported "I Can Breathe" T-shirts — an apparent mockery of Garner's dying words, which, as everyone is aware, have been used as a rallying cry by activists. The man who was selling the shirts, Mike Stables, claimed that he didn't mean to be "divisive." (Sounds familiar!) When asked by Gothamist why he chose the slogan, he explained, "Lebron has a worldwide podium and he exercises that and does it in a very eloquent fashion, but I think we need to also perhaps garner some attention, no pun intended." Another person with "I Can Breathe" across his chest told Gawker, "If [Garner] hadn't resisted arrest, he could still breathe."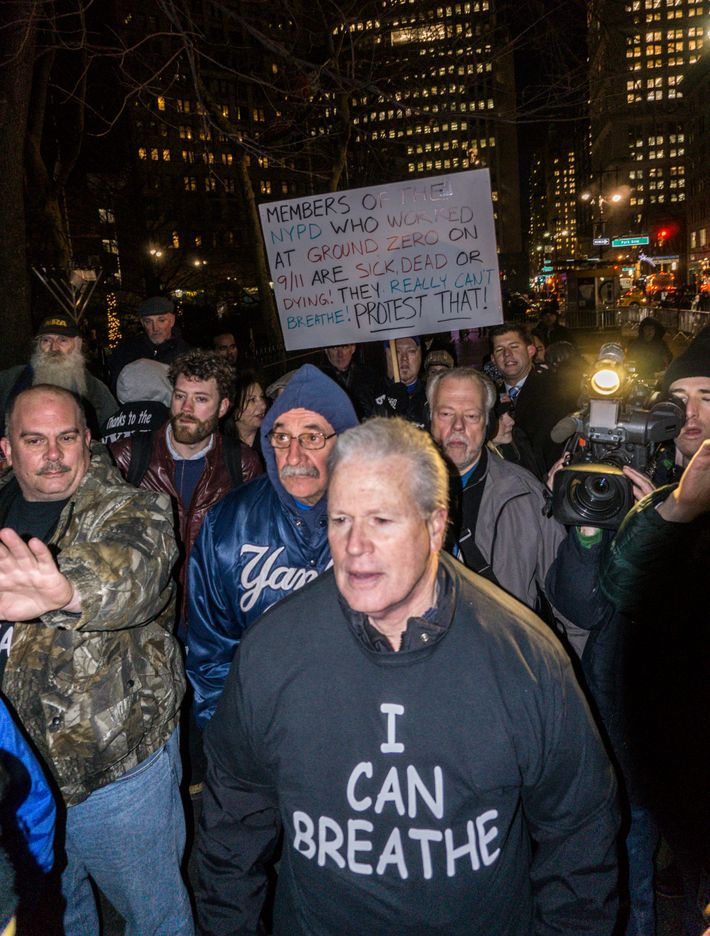 Also on the scene were anti-police-brutality protesters who, according to the New York Daily News, outnumbered the cop supporters two to one. The NYPD wisely divided the two groups with barricades, but there was still plenty of yelling. Shouts of "I can't breathe!" and "Fuck the police" were met with "Stop resisting arrest!" and "Why don't you get a job and get off welfare?"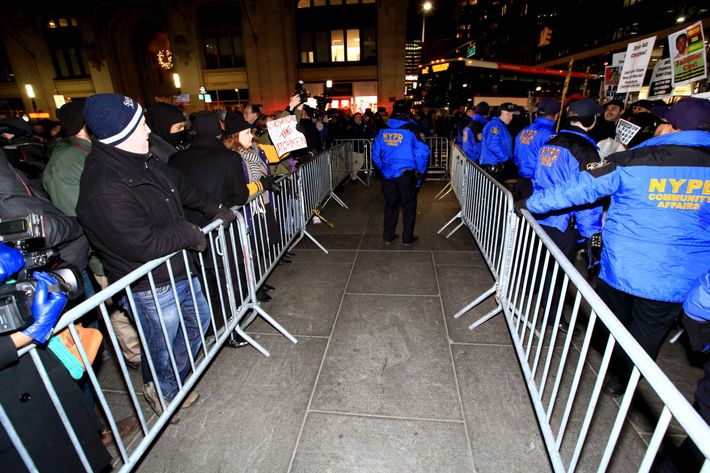 Speaking about the counter-protesters, a cop who'd come down from Connecticut told Gothamist, "The people who are saying bad things are never in that situation. They have no idea what it's like to make a decision that quick." Meanwhile, a retired member of the FDNY, John Plant, told Gawker, "These people are psychos. At what point does it end? They're professional agitators. It goes all the way back to George Soros."
Just a few blocks away, yet another group of protesters stood outside the Justice Department building calling for an indictment in the case of Ramarley Graham, an unarmed black 18-year-old who was shot by an NYPD officer under mysterious circumstances in 2012. "They're not the ones being policed and treated like this," said one woman when asked about the pro-cop demonstration. "And they've internalized these views, that black people are to be feared, that we are always suspect."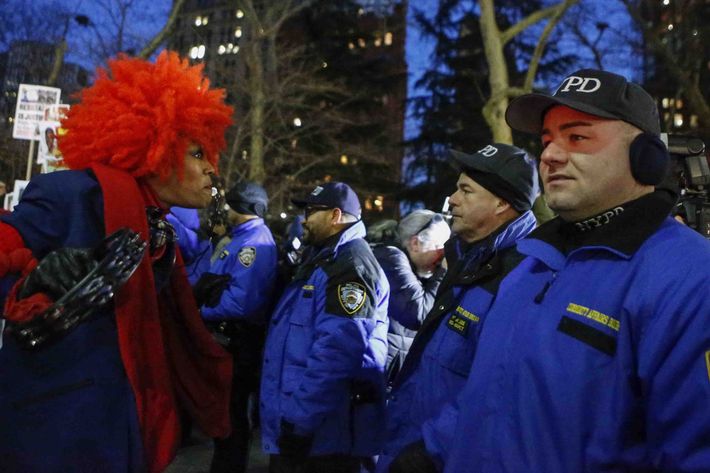 This all came several hours after another person was arrested in connection with the alleged assault on two NYPD lieutenants last Saturday: 36-year-old Maria Garcia was charged with rioting and resisting arrest, among other things, though she denies that she was among the women spotted in footage of the Brooklyn Bridge clash. On Saturday morning, Garcia's husband, 32-year-old Zachary Campbell, turned himself in to face similar charges in the incident.