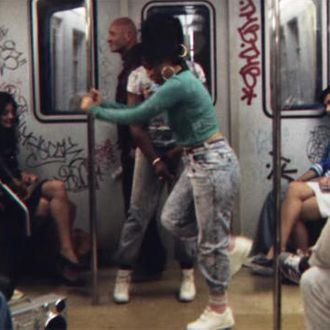 What's as iconic as the musical artists New York City has turned out over the past century? Their fashion-forward looks. In the spirit of its collaboration with the dapper-rapper Nas, Hennessy is turning its attention to how art can beget art through this accelerated history of music movements—from Jazz to Normcore—that have proven just as impactful as the sartorial style they've pioneered.
The Jazz Age
The intertwining of jazz and dance overtook many major cities in America. But New York City, boasting local talent such as Duke Ellington, proved a cultural nexus in this scene. The whirly-girly fashion, having a kinetic unto its own, fit right into that music movement. This lively '20s culture also yielded the original riot grrrls: flappers who were eager to stick it to The Man by wearing short, sequined, fringy frocks.
Beat-Poetry Scene
No clothing color is more associated with New York than black. And for that, we can thank the beat-poetry scene, so named for its rhythm-and-jazz-inflected spoken word. As a nod to outliers as well as Euro-chic, these poetry-jazz fans who tricked down in the '50s from the Upper West Side to Greenwich Village, toned down their fashions to a sleekly carefree minimalism. Their style would impact art-rock generations to come, including cooler-than-thou folk hero Bob Dylan and the Warhol-era Velvet Underground.
Salsa
Salsa emerged throughout the '60s and '70s as a brilliant Venn diagram of sorts exploring the intersection between the Latin population's unique musical offerings, jazz, and swing. This cultural melting pot, in turn, loosened up the related attire: dance gowns become more curvaceous, and men's suiting began to flirt with color.
Punk
Where U.K. punk subversively toyed with neon hues and bondage gear, the punks of New York City's East Village played it cool. It was the late '70s, and they mixed the toughness of bike culture off the nostalgia of the beat scene off the romanticism of the French symbolist movement. Not surprisingly, their music (and fans!) followed in kind: It was alternately thoughtful and revolutionary. To this day, their style and substance remains relevant.
Disco
The fashion-driven M.O. of this late '70s/early '80s era is no better captured than in the famous image of Bianca Jagger swathed in a Halston dress, riding into Studio 54 atop a white horse. This dance era led with style—dresses glittery and slinky, shirts unbuttoned, ties loosened—and set an intriguingly sexy-louche tone for the music itself.
Hip Hop
One cannot overstate the cultural impact of New York City's burgeoning rap scene in the '80s, which started the imperative of rappers getting political or name-checking their favorite labels in their tracks. That gave way to the hip-hop resurgence a decade later (featuring Nas and his seminal album, Illmatic) which nailed down an unlikely nuance in the interplay between how a rapper's message can impact his style.
Indie-Rock Scene
The progenitors to the Williamsburg aesthetic? It was jump-started by The Strokes, Yeah Yeah Yeahs, and their contemporaries of the early aughts—bands whose neo-punk sounds bridged the East Village with the then-badlands of the Brooklyn neighborhood. Their looks matched their range of influences, while flaunting their outsider-ness. For The Strokes, that meant borrowing from the book of Ramones, wearing Chucks, leather jackets, and jeans. For the Yeah Yeah Yeahs' front woman Karen O, that translated into looking like an alluring peacock from Mars. Need proof of its impact? Just walk down now Bedford Avenue on any Saturday night.
Normcore
What's next? As indie-rock chic reaches tipping point, its anti-, normcore, has found its footing as a way to blend in to stand out: acid-wash jeans, turtlenecks, sweatshirts…. Amid a zeitgeist of '90s nostalgia, normcore looks to Weezer's Rivers Cuomo as its spirit animal, and then takes his look to an extreme. Though still in its infancy, normcore has managed to amass a loose assortment of musicians (think R&B visionary Frank Ocean, lo-fi rockers the Dirty Projectors, even at times pop-provocateur Miley Cyrus). Their commonality is almost philosophical: adopting that visual aesthetic to play off their otherwise eclectic music.