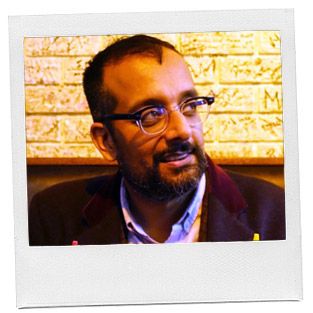 Photo: Courtesy of Suroosh
Name: Suroosh Alvi
Age: 45
Neighborhood: East Village
Occupation: Co-founder, Vice Media
Who's your favorite New Yorker, living or dead, real or fictional?
Ed Koch. He was kind of a gay, possibly alcoholic, and probably corrupt mayor in the heyday of New York in the '80s when the city was riddled with violence.
What's the best meal you've eaten in New York?
The list is kind of endless, but Roti Boti in Queens was particularly memorable. It caters to cab drivers and is maybe the best Pakistani food in NYC outside of Lahore. I ended up there for a "business meeting" with rapper and chef Action Bronson. Then there's the time I got steaks with my partners at Peter Luger's. We'd been eating beans and rice for two years and had just dug ourselves out of a huge financial hole. It was Williamsburg circa 2002; it wasn't the steak so much as the moment it represented. We weren't bankrupt!
In one sentence, what do you actually do all day in your job?
It used to be putting out fires and hitting send and receive all day and being a professional emailer, but now I get to spin the globe and look at a map and decide where I want to go to investigate and produce my content.
What was your first job in New York?
I've only ever had one job worth mentioning, which was Vice, but when we moved to New York in '99, it was at the peak of the dot-com bubble. My job, in addition to running editorial for all of Vice, was to build an insanely over-the-top, ecommerce website that could fulfill orders globally the next day, but then the bubble burst and it all went away overnight.
What's the last thing you saw on Broadway?
Interstellar 4K on a Wednesday night at the Times Square movie theater, which is technically on Broadway. Also, Book of Mormon.
Do you give money to panhandlers?
Yes, on a case-by-case basis.
What's your drink?
Whole milk. One glass every night before bed. It's not just for little kids.
How often do you prepare your own meals?
Once a month, I would make myself eggs on weekends, but then I got married, and now my wife feeds me three times a week. She doesn't really use recipes; she just invents delicious things then makes me eat them.
What's your favorite medication?
Wellness formula. You take it at the first sign of unwellness and it's like a miracle drug that makes said unwellness go away. Or a combination of praying, playing squash, sex, and sleep.
What is the best thing in or about your apartment?
My wife lives there.
What's the craziest thing you've ever seen on the subway?
A suicide. A woman jumped in front of the train. Everyone was fucking horrified and it fucked up everyone's plans and schedules, but then it put everything into perspective. You feel like an asshole for complaining about having to find a taxi because someone killed themselves.
When was the last time you stayed out past 3 a.m.?
At the Vice 20-year anniversary party, on Friday night.
Which do you prefer, the old Times Square or the new Times Square?
Old, duh.
What do you think of Mayor de Blasio?
It's good for NYC to have a liberal dude in that position for a while. Let's see how he performs and if he allows some of the chaos to return. This city is sorely lacking in the fun department of late, which I think is a view shared by many. NYC has lost its edge, which is obviously great for tourism and the economy, but it's also sterile and BOOOORRRINGGG.
What do you hate most about living in New York?
We're engaged in an incessant flow of information, people, and things, which can be extremely difficult to extract from. This leads to not getting nearly enough sleep and can ultimately make you very tired and turn you into a crazy person. I hate that.
If you could banish one person from New York forever, who would it be?
No one. That's what makes New York so awesome. Even though there are plenty of people that I hate, we've got to figure out how to share this place.
When's the last time you drove a car?
Today. I drive every day. I do the reverse commute from Manhattan to Brooklyn, which means I'm always going against the traffic and, therefore, can whip over the Williamsburg Bridge very fucking fast. My current bridge speed record is 95 MPH.
Finish this sentence: The NYPD _____.
… are the biggest gang in town.
Times, Post, or Daily News?
Times, weekend edition. Post at the barber shop.
Where do you go to be alone?
Foreign countries. Post-conflict zones. Beaches.
What makes someone a New Yorker?
I do think there's something to be said for this ten-year-rule business. When you return to New York from anywhere, and you have that sense of relief — that you've arrived to a calm and peaceful place — then you've become a New Yorker.