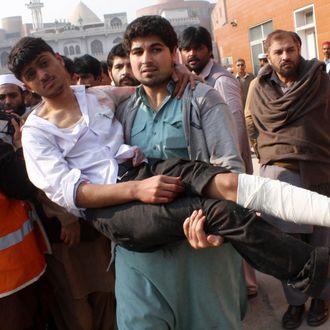 Photo: Anadolu Agency/Getty Images
A Taliban attack on an army-run school in the Pakistani city of Peshawar killed 141 people on Tuesday, including 132 children. Five or six militants brandishing firearms entered the school auditorium during a first-aid training session and killed scores of students and some teachers. Many of them were killed in a suicide bombing.
The BBC reports that the Taliban soldiers were focused on killing as many children as possible instead of taking hostages. Most of the children are under the age of 16, and their parents are in the military.
"As soon as the firing started, we ran to our classrooms," a school worker told Reuters. "They were entering every class and they were killing the children."