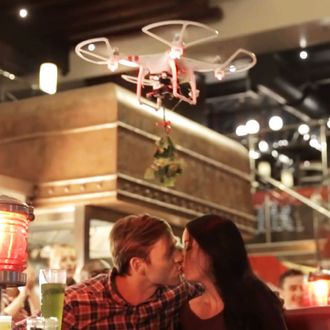 All was not merry and bright at the Sheepshead Bay TGI Fridays last Thursday evening, when a drone outfitted with mistletoe careened into a photojournalist's face, bloodying her nose and chin. The flying Christmas plant is part of a TGI Fridays promotion meant "to help inspire more guests to come together underneath the mistletoe and experience #Togethermas this Christmas." We spoke with Georgine Benvenuto, the victim of the mistletoe mishap, to see what exactly it's like to have your nose nearly sliced off by an ill-advised chain restaurant promotion.
Benvenuto told Daily Intelligencer that she arrived at the TGI Fridays in Sheepshead Bay on assignment to shoot a couple kissing beneath the mistletoe drone around 5 p.m. on December 4. But when she learned the shoot would take place inside, she felt immediately uneasy.
"When I came up and I saw this drone flying around the interior of the restaurant I said to myself, 'I better find a location where I can put two people and have this thing hover over them without interfering or hurting anyone else,'" she said. "I was uncomfortable, uneasy about it from the very beginning."
Benvenuto said there were two drones — a larger one, and a smaller one marketed as a children's toy. After taking a few shots of couples kissing beneath them, Benvenuto went to the bathroom and then emerged to stand with several of the people working on the shoot. Then the man operating the drone decided to show Vanessa Ogle, the Brooklyn Daily reporter writing the story, that the drone could land easily on her hand. Here's what happened next, according to Benvenuto:
It kind of landed, but it did something to her hand–I don't know whether it was buzzing or what–but she flinched. And when she flinched, I was standing maybe a foot away from her, and this smaller toy drone for children flies into my face at that point. It was like I couldn't get it off because I guess the mistletoe part had fishing wire on it–that's how it was attached–and it got caught in my hair and it kept twirling and twirling and twirling while this thing is on my nose. That's how it ended up cutting me under the chin, I think it had four blades. So immediately like I'm trying to get this thing off as if it was a huge bug trying to shoo it away.
Benvenuto was eventually able to extract the drone from her hair, but she said that the operator didn't appear to provide any help in that regard.
"The operator I think still had it in operation mode," she said. "Immediately his hand should've come off the controls but they didn't. I was pissed off at that point so I put my index finger up to my nose and he said, 'This thing won't cut you,' and I said, 'What do you mean it won't cut me? It just did.'" 
Benvenuto managed to escape the ordeal with minor facial cuts, but was worried that it could've been a much more serious accident.
"If that would've hit me in my eye, I wouldn't be working tomorrow. That's my livelihood," she said. "If this thing continued to spin, it would've taken my eye out without a doubt."
For now, Benvenuto plans to avoid drones and definitely wouldn't recommend giving them to children for a Christmas gift. But as for TGI Fridays? "I actually love the way the interior looked," she said.