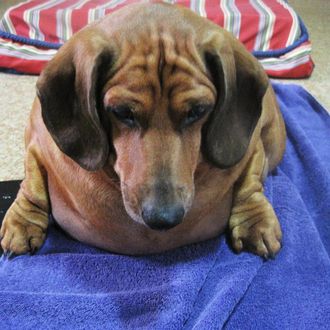 There's this passage in On Love by Alain de Botton where he talks about how depressed he is after a breakup, and it perfectly captures my mood at the end of this week. "I saw in happiness a violent denial of reality," he writes. "I looked commuters in the face and wondered why they were unbothered by their own meaninglessness." I hear that, buddy. Here are nine good things that happened this week — in spite of everything.
1. Malaria death rates are way, way down. The World Health Organization announced on Monday that the number of people who have died from Malaria has been cut in half since 2000. "These tremendous achievements are the result of improved tools, increased political commitment, the burgeoning of regional initiatives, and a major increase in international and domestic financing," WHO director general Dr. Margaret Chan said. 
2. A fox had the time of his life playing with bubbles. The Reid Park Zoo in Tuscon caught this adorable video of Amir the fennec fox chasing bubbles on a blanket.
3. One generous couple gave their favorite waitress a new car. When Roxann and Gary Tackett saw the car their Cracker Barrel waitress, Cindi Grady, was using to get to work and take her disabled son to school, they decided to chip in and purchase her a new one.
4. Chunk the baby bulldog learned to go down the stairs. CHUNK. HIS NAME IS CHUNK.
5. A widow donated her wedding rings so needy children could get toys. The anonymous woman put her diamond ring and wedding band — valued at $1,850 — in one of the Salvation Army donation kettles in Boston alongside a note asking the money be used to buy toys for needy kids.
6. A bunny realized his favorite toy is a pink balloon. If only humans were satisfied with such simple things.
7. Obie the formerly obese dachshund announced his remarkable weight loss. Obie used to weigh 77 pounds — twice the weight of a normal dachshund — but with the help of a new and attentive owner, he's now holding steady at a healthy 23 pounds. Go Obie!
8. A twin surprised his brother on their 30th birthday. Geoffrey hadn't seen his twin brother Mike in over a decade, so, for their 30th birthday, he decided to fly from North Carolina to California to surprise him.
9. These puppies had more fun in the snow than you did. Golden retriever puppies bopping about in the snow. That is all.