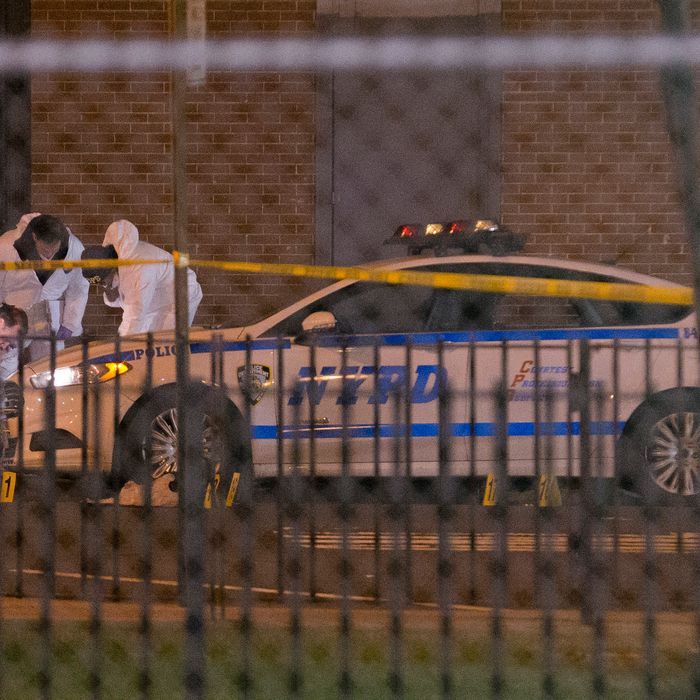 Two NYPD officers were fatally shot as they sat in their squad car in Bed-Stuy at around 2:50 p.m. on Saturday. Both of the cops reportedly sustained head wounds and were rushed to Woodhull Medical Center, where they were pronounced dead.
The shooter seems to have ambushed the pair outside the Tompkins Houses, near Myrtle Avenue and Tompkins Avenue: "The perp came out of the houses, walked up behind the car and lit them up," a police official told the New York Daily News. The paper reports that four witnesses backed up the official's account, but they didn't want their names published.
From the Daily News:
"He just walked up and shot that cop in the head," one man said. Rescuers rushed to the aid of the mortally wounded officers. "They basically dragged two cops out their car," a second witness said. "I saw it. One was shot in the face. There was blood coming out of his face."
NYPD Deputy Chief Kim Royster told the New York Times that the suspect fled into the nearby Myrtle-Willoughby G train station, where "officers found him wounded with a gunshot wound that appeared to be self-inflicted." He died shortly after at Brooklyn Hospital.
At around 7:45 p.m., Mayor de Blasio and Police Comissioner Bill Bratton addressed the media at Woodhull, where hundreds of cops gathered in the wake of the shooting. Bratton spoke first, identifying the slain officers as 32-year-old Wenjian Liu and 40-year-old Rafael Ramos. Ramos, who joined the NYPD two years ago, had a wife and a 13-year-old son. Liu, a seven-year veteran, got married just last month.
Bratton also identified their killer: 28-year-old Ismaaiyl Brinsley. "They were, quite simply, assassinated — targeted for their uniform," said Bratton. According to the NYPD chief, Brinsley "[t]ook a shooting stance on the passenger side and fired his weapon several times through the front passenger window, striking both officers in the head."
"Officer Ramos and Officer Liu never had the opportunity to draw their weapons," he continued. "They may never have had the chance to see their murderer." Bratton also confirmed that Brinsley, whose last known residence was in Georgia, shot his ex-girlfriend in Baltimore on Saturday morning before traveling to New York. According to the Baltimore Sun, the 29-year-old woman is currently in a hospital in serious condition.
Bratton said that Brinsley appeared to have "a very strong bias" against cops, and that he had used Instagram to threaten violence against them earlier today. "They Take 1 Of Ours….. Let's Take 2 of Theirs #ShootThePolice #RIPErivGardner [sic] #RIPMikeBrown This May Be My Final Post," said a post featuring a handgun. "I'm Putting Pigs In A Blanket."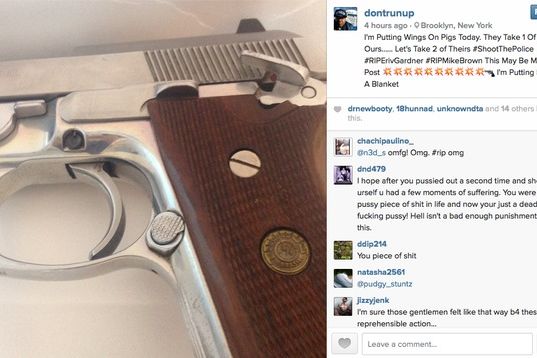 Another, showing what appeared to be blood on Brinsley's pant leg, referred to "A Hot Gun On Your Waist And Blood On Your Shoe…#BrooklynGoHard."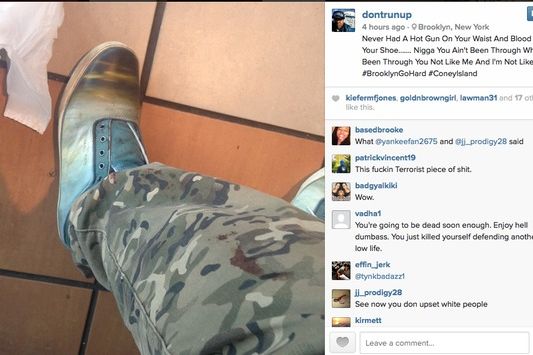 At around 2:45 p.m., Maryland law enforcement officials faxed a message to the NYPD warning them that Brinsley seemed to be en route to the city. "The tragedy here was that just as the warning was coming in, the murder was occurring," Bratton said.
"Our hearts are heavy," said de Blasio, who described the shooting as an "assassination" and a "despicable act." "We lost two good men who devoted their lives to protecting all of us … When a police officer is murdered, it tears at the very foundation of our society — it is an attack on all of us." He also urged anyone who might see or hear threats against police officers to call 911 immediately. When asked whether he thought the shooting had anything to do with the recent anti-police-brutality protests, he said that "this is not a time for politics."
Apparently, some cops felt differently and turned their backs to de Blasio as he entered the press conference. A video of that can be seen here.
After the press conference, officers lined up outside of Woodhull to prepare for the removal of Liu and Ramos's bodies:
Meanwhile, police precincts, unions, elected officials, and other leaders issued statements that ranged from heartbroken to inflammatory. Patrolmen's Benevolent Association head Pat Lynch's comments definitely fell into the latter category.
"There's blood on many hands tonight. Those that incited violence on this street under the guise of protest, to try to tear down what New York City police officers did every day," said Lynch as he stood outside of Woodhull. "That blood on the hands starts on the steps of City Hall, in the office of the mayor." Listen to the whole thing below:
And here are some more appropriate responses, with the possible exception of the one from former New York governor George Pataki at the bottom:
In a longer statement, Sharpton added, "I have spoken to the Garner family and we are outraged by the early reports of the police killed in Brooklyn today. Any use of the names of Eric Garner and Michael Brown, in connection with any violence or killing of police, is reprehensible and against the pursuit of justice in both cases … The Garner family and I have always stressed that we do not believe that all police are bad. In fact we have stressed that most police are not bad."
This post has been updated throughout.