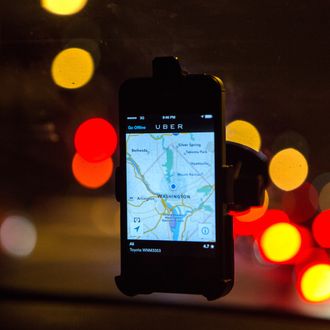 Photo: Evelyn Hockstein/For The Washington Post via Getty Images
Over the weekend, three different Boston women reported that they were assaulted by their drivers while using unnamed ride-sharing services. In each incident, the driver touched the women inappropriately before they struggled to get him to let them out of the car. Now CBS Boston is reporting that another woman has come forward alleging that an Uber driver raped and strangled her.
Forty-six-year-old Alejandro Done was arraigned on charges of rape, assault to rape, and assault and battery on Wednesday. The victim alleges that he told her she needed to pay him in cash and drove her to an ATM before taking her to an unfamiliar location, climbing into the backseat, and proceeding to sexually and physically assault her.
It's unclear whether the incident, which occurred on December 6, is directly related to those reported over the weekend, but it's a chilling reminder that ride-sharing services aren't always as safe as companies like Uber want you to believe — especially if you're a woman.
Update:
Uber provided Daily Intel with the following statement: