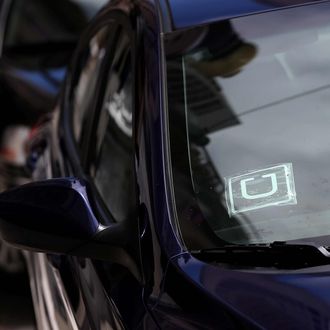 Photo: Justin Sullivan/Getty Images
Over the last couple of years, Uber has faced complaints about its sometimes exorbitant pricing system and questions about whether women should feel safe riding with the company's drivers. On Saturday, Gothamist published a story that seems to combine those two issues, with a female rider passing out in an Uber car and waking up to a curiously high tab.
Megan (she didn't provide a last name) told Gothamist that she summoned Uber to pick her up from a holiday party at 26th Street and Park Avenue last Thursday night. Feeling "ill and tired," she gave the driver the address of her place in Hoboken, located just under five miles from the party, and passed out for what turned out to be a very long ride home:
And as you can clearly see by the attached route image and screen shots, my driver Adnan took it upon himself to blatantly take advantage of the situation and drive back and forth all over Manhattan before taking me to Hoboken! The trip lasted an hour and logged 14.51 MILES—MORE THAN 3 TIMES the distance it should have been!!! I couldn't believe my eyes when I saw my trip summary the next morning. And because Uber just charges the credit card on file, I didn't see the ridiculous bill ($293!) when exiting the car or else I would've said something to the driver right then. I was the only passenger in the car and the only stop was to take me home—what was he doing!?
Megan said she recalled the driver saying that "there was a lot of traffic," but that doesn't seem to explain why he zigzagged around midtown for nearly an hour before finally heading to Hoboken. Even without surge pricing and the surcharge for going into Jersey, the trip would have cost nearly $100.
Megan acknowledged that this probably wasn't the first time that a driver — Uber or otherwise — had taken advantage of a dozing passenger by jacking up the fare with a circuitous route, but, as she pointed out, her case is "extreme." So far, her tweets and emails to the company, which still lacks a customer-service number, have gone unanswered. "Thankfully nothing worse happened!" she added, noting that she was "a girl riding by herself." While it's true that the $293 fare isn't the absolute worst thing that could have happened to someone in Megan's position, her complaints to the company still seem to warrant some response.
Update: Gothamist reports that Uber got in touch with Megan a few hours after their story was published. It seems that there was some kind of "technical error." "They compensated me for 2/3 of the trip, my total was $119, fair for a 2.8x surge I guess. And [they] apologized for their lack of response, said it was their fault for that," she said. "Crazy that emails, tweets, and negative ratings on the app weren't enough to illicit a response."
Meanwhile, Uber reminded users that, "Our in-app features ensure dynamic pricing is repeatedly communicated and approved before any trip is confirmed."