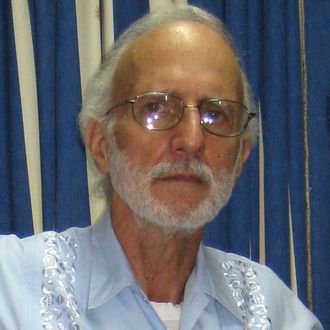 Photo: Courtesy of Finlay Military Hospital
In the most significant change in relations between the two nations since January 1961, the United States and Cuba announced on Wednesday that they are taking steps to resume diplomatic relations, with the U.S. reopening its embassy in Havana and easing travel restrictions to Cuba. "Neither the American nor the Cuban people are served by a rigid policy that's rooted in events that took place before most of us were born," President Obama said in a televised address, noting that efforts to push the government of Fidel and Raul Castro toward collapse have been unsuccessful. "Even if that worked, and it hasn't for 50 years, we know from hard-earned experience that countries are more likely to experience lasting transformation if their people are not subjected to chaos."
Earlier in the day, the two nations revealed that 65-year-old American Alan Gross had been released after five years in a Cuban prison. He was a USAID subcontractor whom the Cuban government accused of being a spy. Gross was sentenced to 15 years, and his health had reportedly declined drastically, including a loss of vision and severe weight loss. The U.S. also swapped one of its spies held in Cuba for three Cubans imprisoned in Florida. 
Gross flew home on a government plane Wednesday. "We are extremely grateful that [Gross is] on his way home," Gross's brother-in-law, Harold Rubinstein, told the New York Times. "It's been a long ordeal."
In his address, Obama thanked Pope Francis for urging him and Cuban President Raul Castro to free their prisoners, and Canada for hosting months of secret talks between the two countries.
In addition to the prisoner release, the U.S. is easing restrictions on travel to Cuba, increasing the amount of money Americans can send to Cubans from $500 to $2,000 per month, and allowing U.S. travelers to return with $400 in Cuban goods. The State Department has also launched a review of Cuba's designation as a state sponsor of terrorism.
Tourists will still be banned from traveling to Cuba, and the economic embargo on Cuba cannot be removed without action from Congress. Obama said he doesn't expect "a transformation of Cuban society overnight," but the U.S. will continue pressing the island nation on areas where the countries disagree. "We will raise those difference directly, and we will continue to do so on issues of democracy and human rights in Cuba."
President Castro praised the move in an address delivered from Cuba at the same time as Obama's. "This expression by President Barack Obama deserves the respect and recognition by all the people, and I want to thank and recognize support from the Vatican," he said.
Normalizing relations with hostile nations has been an important project for Obama. In addition to this latest move on Cuba, he has been known to write personally to Iranian religious leader Ayatollah Ali Khamenei. Secret negotiations also secured the release of two Americans being held for "crimes against the state" in North Korea.
This post has been updated throughout.