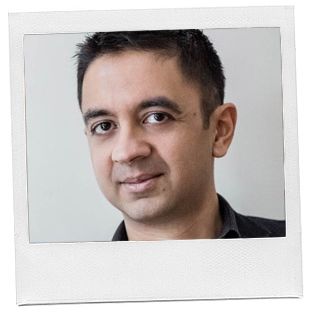 Name: Vijay Iyer
Age: 43
Neighborhood: Central Harlem
Occupation: Grammy-nominated composer-pianist, 2013 MacArthur Fellow, and professor, Harvard University. From December 18 to 20 you can catch him performing a program of three works, including the world premiere of a solo piece for piano, at the Brooklyn Academy of Music.
Who's your favorite New Yorker, living or dead, real or fictional?
I would say that one of my favorite New Yorkers who I've met recently is Rakesh Khurana, who is the dean of Harvard College, but he's from Queens. He's just a real regular guy, so normal and so New York, and I really admire that he doesn't code-switch. He's just totally himself. He's also South Asian American, like I am. So the fact that he is at this position at this Ivy League institution is interesting to me because he still has this very down-to-earth and not "to the manor born" kind of quality. It's like, you see in somebody like him the sort of generational shift of how Americans see themselves, how New Yorkers see themselves. Another one of my favorite New Yorkers is the drummer I work with. His name is Marcus Gilmore; he's from Queens. He's just a stand-up guy.
What's the best meal you've eaten in New York?
This place called At Vermilion, a fusion restaurant run by one of these celebrity chefs whose name I'm forgetting. I got taken there by a friend of mine, Suketu Mehta, a couple years ago.
In one sentence, what do you actually do all day in your job?
I make music, I think about music, I talk about music, I play music, and I fail to answer emails.
What was your first job in New York?
Well, I've been a freelance musician until I took this job at Harvard this year, so for 15 years I didn't have a job exactly. I just had a lot of gigs and commissions and tours. I'm trying to think about the first gig I had in New York. It was probably in the basement of the Knitting Factory, this little tiny room that a friend of mine called the Jazz Penalty Box, because that's what it felt like.
What's the last thing you saw on Broadway?
I don't get out often, but I've taken my daughter to a few things. As it happens, her classmate plays Cosette in Les Miz, so I think that was the last thing I saw, sometime last spring.
Do you give money to panhandlers?
Yes.
What's your drink?
A triple espresso, a red wine, a vodka gimlet — which is like an old man's drink. Almond milk.
How often do you prepare your own meals?
Does breakfast count? Then I guess half the time, but I never make my own dinner. I'm just not a good cook, and it's not worth my while or anyone else's.
What's your favorite medication? 
Meditation. And for me music is that.
What is the best thing in or about your apartment?
That it's a house and it's quiet. We were able to get a very beautiful home in Harlem and we inhabit three of the floors, so we have space and light and air. 
What's the craziest thing you've ever seen on the subway?
You know what? When something really clearly happens I tend to repress it and pretend it never happened. I try to unsee it. And I can only think of gross things, things that you don't want to print.
When was the last time you stayed out past 3 a.m.?
It must have been October. I was celebrating someone's birthday. Some friends of mine were playing at the Village Vanguard, and then we went to a bar nearby. Music and jokes and carousing.
Which do you prefer, the old Times Square or the new Times Square?
I prefer the old Times Square. I wouldn't say it was less crass, but it was crass in a different way. I think it just felt more connected to old New York, with all is foibles. It felt a little bit more real. We went to the current Times Square's Toys 'R' Us once and we took the Ferris wheel. That Ferris wheel is not actually a Ferris wheel. It's more like a forced tour through the store so that your child can pick out what they want to buy. It's horrible. And it actually doesn't really move! It's like being on an elevator — it just keeps stopping. So you're on this elevator that's frozen between floors and you're just staring at merchandise. I think my daughter was underwhelmed by the ride, but she certainly made out like a bandit that day.
What do you think of Mayor de Blasio?
I'm glad he's there, and I think he probably has his heart in the right place. We could do a lot worse. He's basically a progressive who is getting an intense trial-by-fire in this job.
What do you hate most about living in New York?
The first thing that popped in my head is that things are always sold out. Or there's like a three-hour wait for a table. It's great that there's such abundance and variety, but on the flip side, everybody's out all the time. I'll put it this way: I'm basically a very last-minute person. My excuse is that I'm an improviser, that's basically what I do as a musician. But I like to make choices at the last minute, and often you make a choice at the last minute about what to do and then you find you can't do it. Because everybody else already thought of it.
If you could banish one person from New York forever, who would it be?
Giuliani. I'd actually like to banish him from the planet.
When's the last time you drove a car?
When I'm on the road I try not to make myself drive, because I get so little sleep I'm afraid I'll fall asleep. But I think the last time I drove was in October, visiting my in-laws in Canada.
Finish this sentence: The NYPD _____.
Needs to respect civil and human rights.
Times, Post, or Daily News?
The Times is what we end up spending money on.
Where do you go to be alone?
The room I'm in right now, which is sort of this piano room at home. I'm lucky to have a room that's just full of my junk, and it's reasonably quiet and warm, which I am appreciating right now. It's been referred to as my man cave.
What makes someone a New Yorker?
The way they walk. I actually say this to my daughter sometimes, when she's dilly-dallying: "Come on, walk like a New Yorker! "