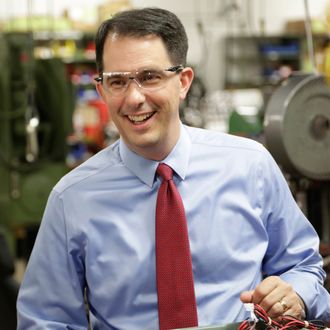 Photo: Darren Hauck/AP/Corbis
While gearing up for a potential 2016 presidential run, Republican Wisconsin governor Scott Walker has been forced to acquaint himself with donor bases whose cultures he's not exactly familiar with. Like Judaism, for example!
Madison.com reports that Walker, the son of a Baptist preacher, courted Jewish donors last spring at the Republican Jewish Coalition spring meeting in Las Vegas. But unfortunately for Walker, all this newfound "common ground with the Jewish faith" is dredging up old memories of a time when he wasn't so familiar with the commonalities of monotheistic religions.
One Wisconsin Now dug up an undated letter that Walker sent in response to chairman Franklyn Gimbel's request that he display a menorah during the holiday season:
Walker told Gimbel his office would be happy to display a menorah celebrating "The Eight Days of Chanukah" at the Milwaukee County Courthouse, and asked Gimbel to have a representative from Lubavitch of Wisconsin contact Walker's secretary, Dorothy Moore, to set it up.

The letter is signed, "Thank you again and Molotov."
Tomayto, tomahto.